Can Modern AI Pass a Data Science Interview?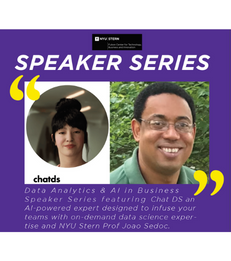 Date: Tuesday, March 7
Time: 6pm-7pm ET
Location: Virtual, register here
Modern AI language systems are astounding, as we are reminded almost every day.  But they also are criticized for their (lack of) accuracy, their tendency to just make things up, their banal song lyrics, and their lack of true intelligence (recall last fall's fireside chat with Prof. Gary Marcus).  Where are we, really, when it comes to AI "large language models" helping us to actually do real work?
To examine this question, Professor Joao Sedoc (a modern chatbot expert) and Professor Foster Provost, Fubon Director of Data Analytics and AI, will interview ChatDS – a data science chatbot.  Their interview will range from standard data science interview questions, to challenging problem formulation questions, to live coding and data visualization questions.  They will get a view of what ChatDS can and cannot do, and hopefully a picture into the future of work … with AI.
For more information, please visit the center's website.
---