Change. Envision it. NYU Stern Online MS in Quantitative Management Program Celebrates Fifth Cohort.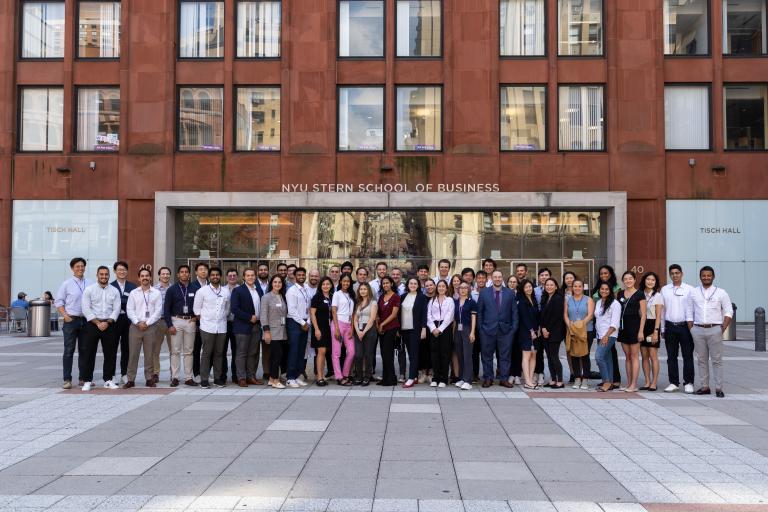 NYU Stern's Online MS In Quantitative Management Program welcomed its newest cohort in August during the first of two residential immersions in NYC
 
In August, NYU Stern's Online MS in Quantitative Management (MSQM) Program welcomed its newest students, marking the program's fifth cohort. Stern's online MSQM has been synonymous with innovation from the start; at launch, Stern was the first and only top-ranked US business school to establish a master's in management online. 
Since then, the program has continued to trailblaze. Stern's MSQM not only provides students with core business management fundamentals, but also cutting-edge data analytics skills so students are prepared to lead in today's data-driven business world. The structure of the part-time, 20-month program provides working professional students with flexibility and convenience. Twenty-two carefully crafted short courses are taken one at a time and delivered online with mostly asynchronous content, so students can continue to work and immediately apply learnings with ease. The cohort model also allows students to work collaboratively and build lasting relationships with their peer network. Additionally, the program uniquely includes two residential immersions in New York City, allowing students to connect in person with one another as well as Stern's world-renowned faculty and business leaders. And what's more – students have the option to either complete the program or transfer to the Langone Part-time MBA Program, apply all earned credits, and earn an MBA instead.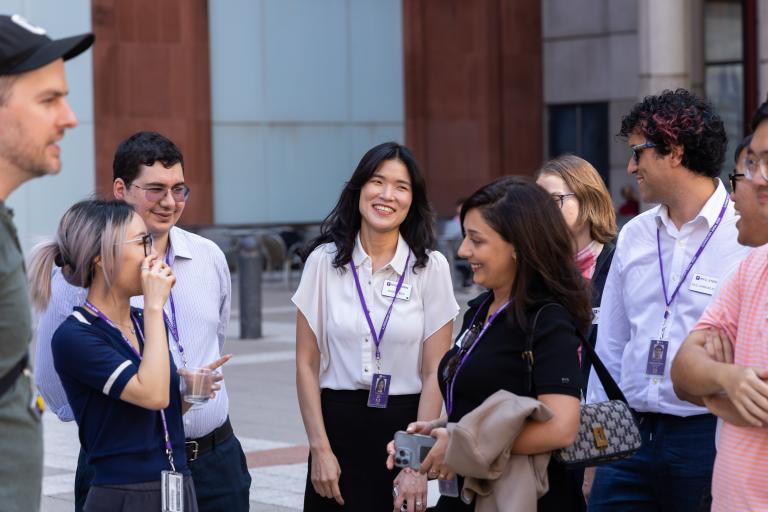 MSQM students on campus during the program's residential immersion 
According to Kim Corfman, vice dean for learning innovation and academic director of the program, "NYU Stern's Online MSQM Program has been thoughtfully structured to deliver high-impact benefits. The program prepares students to be leaders and data-savvy managers through a format that provides convenience, community, and access to NYC. With the added advantage of offering a pathway to the MBA, Stern's MSQM is in a class of its own."  
Learn more about Stern's MSQM Program in this Poets&Quants feature: "NYU Stern's Online MSQM: Inside 'This Incredible Community'"
Hear from two MSQM Program alumni below: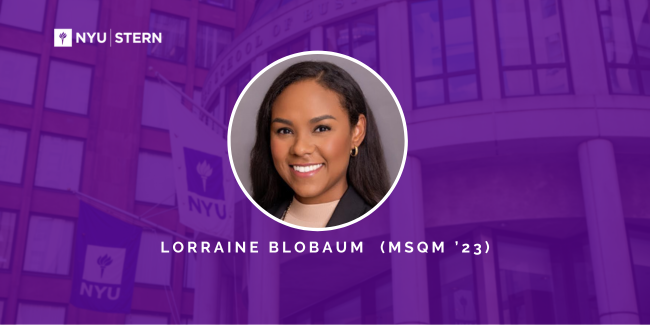 Lorraine Blobaum (MSQM '23) 
 
Why did you choose NYU Stern's MSQM Program?
I chose NYU Stern's MSQM Program primarily due to its innovative approach to education, academic richness, and the agility of modern online learning. The program's range of foundational business courses, complemented by specialized courses in data analytics, provides a well-rounded yet focused curriculum. The cherry on top is the annual in-person residential immersion. This not only facilitates hands-on, traditional learning experiences in a classroom setting but also fosters invaluable networking opportunities with like-minded peers.
What was your favorite part of the program?
My favorite part of the program was undeniably the networking opportunities and meaningful connections that I made. It wasn't just about exchanging business ideas or adding another LinkedIn connection, but rather about forming genuine, lasting relationships. Through this program, I had the privilege of connecting and collaborating with individuals who were not only accomplished in their respective fields but also incredibly inspiring as people. They expanded my horizons, challenged my perspectives, and became pivotal in my personal and professional growth journey.
How has the program impacted your career?  
The program has positively impacted my career and it has been a catalyst for significant milestones in my professional journey. While enrolled, I earned a promotion, then a pay raise, and most recently secured a new role within my company, one that resonates with my career aspirations and long-term goals. Also, the prestige associated with the program's brand has improved my standing among my peers, leading to more visibility and recognition within my organization.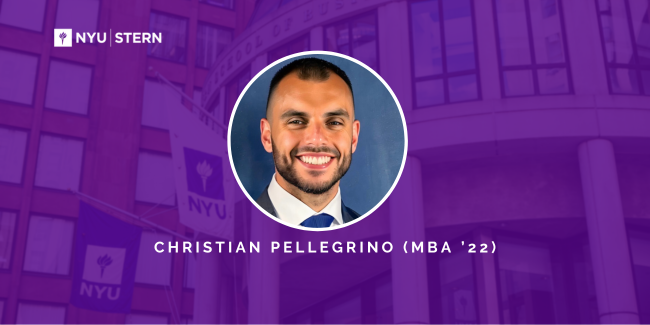 Christian Pellegrino (MBA '22) 
 
Why did you choose NYU Stern's MSQM Program?
I chose MSQM because of its foundational business management curriculum layered in with targeted analytics courses which were key focus areas in my career. The program also afforded me the opportunity of completing my coursework in an accelerated, online manner mixed in with interactive in-person learning sessions.
You opted to transfer to the Langone Part-time MBA Program. What were the benefits of starting your journey in the MSQM Program before transferring? 
I was able to accelerate the completion of my core requirements while balancing a full-time job commitment, which positioned me extremely well to take targeted, specialized courses in the Langone program.
How has your Stern journey impacted your career? 
Having a master's degree from Stern has been a differentiator from a career development perspective and an extraordinary networking opportunity on a global scale given NYU Stern's strong brand reputation and large global reach. I take pride in being able to refer to myself as a NYU Stern alumnus.
 
---