Business and Policy Leader Events
Spotlight on Sustainability & Capital Markets at NYU Stern-Citi Conference in Leadership & Ethics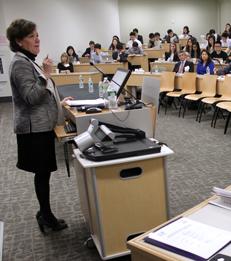 Governments and philanthropists alone cannot solve [the world's] problems.
The 10th Annual NYU Stern-Citi Conference in Leadership & Ethics addressed the theme of "Integrating Sustainability Into Capital Markets."
Organized by NYU Stern's
Citi Leadership & Ethics Program
and
Business & Society Program Area
, with generous support from the Citi Foundation, the 2013 conference featured this year's Distinguished Citi Fellow in Leadership & Ethics,
Mindy Lubber
, president of Ceres.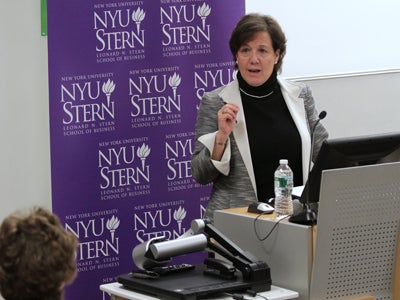 In her keynote address, Lubber argued that making money and sustainability go hand-in-hand. Citing Superstorm Sandy and the historic drought of 2012, she underscored that extreme weather is the predictable consequence of global warming, which has a very real impact on the economy and business. She asked, "Will we rise to meet the climate change challenge?" After touching briefly on Ford Motor Company's near death experience, Lubber described how the car company has since come back stronger by integrating sustainability principles into every facet of the value chain. She stressed the need for Congress to level the playing field, to provide clear guidance on corporate responsibility practices and to put a price on carbon. Emphasizing that the world's greatest issues are no longer just "tree-hugger problems," Lubber outlined several areas where companies need to apply sustainability principles:
Governance
Compensation
Enterprise Risk Management
Strategic Planning
Facilities
Product development/production
Watch Mindy Lubber's talk: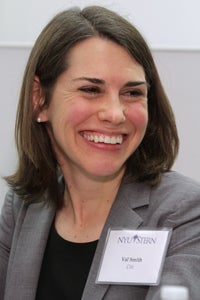 Val Smith, director of corporate sustainability at Citi, moderated a panel discussion on "Wall Street's Take on Sustainability," with Peter Knight, partner at Generation Investment Management US LLP, and Audrey Choi, managing director and head of global sustainable enterprise at Morgan Stanley. Knight highlighted the competitive advantage of taking a long-term view and stressed the distinction between investing and trading. "Governments and philanthropists alone cannot solve [the world's] problems," explained Choi.  "We need to find ways for corporations to partner on solutions."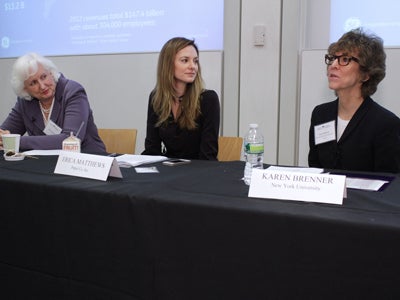 Erica Matthews, director of public policy and sustainability in government affairs at Pepsi Co, Inc., and Ann E. Condon, director and counsel for environment, health and safety programs at GE (Europe, Middle East and Africa), participated in the second panel discussion, "Best Practices on Corporate Sustainability."  Professor
Karen Brenner
, executive director of law and business initiatives at NYU, moderated the discussion. Condon described the simple principles behind GE's "Ecomagination:" Develop products with more environmental benefits that offer more productivity to consumers. Matthews discussed Pepsi Chairman and CEO Indra Nooyi's vision of "Performance with a Purpose," which incorporates human sustainability practices (health and wellness products, food labeling), talent sustainability practices (employee retention, human rights), and environmental sustainability practices (climate change, water conservation, packaging).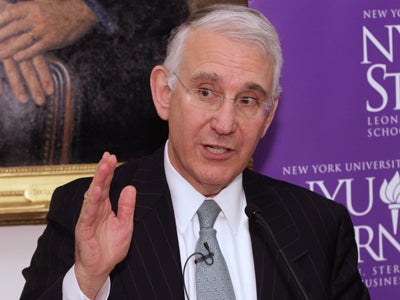 Luncheon keynote Sam Di Piazza, vice chairman of the Institutional Clients Group at Citi, described Citi's return to the basics of banking and responsible lending following the financial crisis. He also shared a few lessons learned with students:
It's important to have corporate responsibility at the center of your business strategy
Measure, reward and disclose (both successes and failures)
Make it simple – Develop a message that company leaders can communicate over and over again
Listen to employees at every level of the organization
---