Business and Policy Leader Events
Cocktails & Conversation with Dean Peter Henry and Vice Dean Raghu Sundaram in Washington, D.C.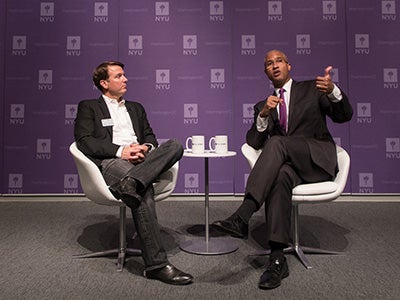 Dean Peter Henry (right) joined Professor Robert Salomon (left) for a fireside chat on globalization at NYU's Washington, D.C., location
On September 25, NYU Stern School of Business Dean
Peter Henry
and Vice Dean
Raghu Sundaram
invited current students, alumni and community members to join them for an evening to celebrate the launch of Stern's Executive MBA (EMBA) Program in Washington, D.C., at NYU's D.C. location, as the University celebrates its fifth-year anniversary in the nation's capital.
Following remarks by Vice Dean Sundaram, Professor
Robert Salomon
, faculty director of Executive MBA Programs, formally announced that
Stern is launching its EMBA Program in downtown Washington, D.C
. Now senior-level executives who work in the surrounding region, along with others who can travel periodically, can earn an MBA from the highest ranked EMBA program in this local market.
After Professor Salomon's announcement, he joined Dean Henry, who is also an international economist and author of "
TURNAROUND: Third World Lessons for First World Growth
," for a fireside chat. Dean Henry discussed our need to double down on, rather than reject, pro-globalization policies in order to drive sustainable economic growth.
Below, view the full event as well as social media highlights. For more information on Stern's Executive MBA Programs, please visit
stern.nyu.edu/emba
.
Exhilarating day. Proud to have officially launched @NYUSternEMBA prgm @NYUWashingtonDC - great fireside chat w @RobertSalomon #SternEMBADC

— Peter Henry (@PeterBlairHenry) September 26, 2017
Vice Dean Raghu Sundaram kicks off the #NYUDC event. Watch live here: https://t.co/a7pJ9Cti9O pic.twitter.com/PyTVfRItHJ

— NYU Stern (@NYUStern) September 25, 2017
"The talent is here and the demand is here"- Prof @RobertSalomon on #SternEMBADC at #NYUDC @NYUSternEMBA pic.twitter.com/fi2lIfn0mf

— NYU Stern (@NYUStern) September 25, 2017
There's a community of biz leaders in DC who believe the global economy is key to creating value- Dean @PeterBlairHenry #NYUDC #SternEMBADC pic.twitter.com/3dn3sehoFr

— NYU Stern (@NYUStern) September 25, 2017
"Everybody can win from #globalization" - Dean @PeterBlairHenry at #NYUDC #SternEMBADC @NYUSternEMBA pic.twitter.com/SoeGANDM72

— NYU Stern (@NYUStern) September 25, 2017
Launch of @NYUStern's #EMBA in Washington, DC! pic.twitter.com/ZiR8qWYGZi

— harsh desai (@hsdesai1) September 25, 2017