Research Center Events
NYU Stern Center for Real Estate Finance Research's Third Annual Symposium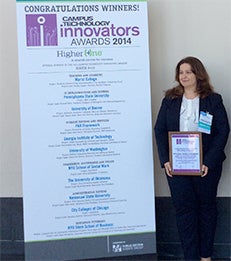 Co-working is a transformative force and represents a fundamental change in how we look at work. Soon, we'll just call it 'work.'
On April 23, NYU Stern's
Center for Real Estate Finance Research
hosted their third annual Spring Symposium. Speakers explored topics including: US tax policy, including carried interest and the impact of FIRPTA on foreign capital inflows; the appeal of US real estate opportunities to foreign investors; the effect of foreign real estate capital inflows on life in NYC and other gateway cities; the future of cities as the global population aggregates in urban centers; the impact of co-working; and the effects of crowdfunding as a means of purchasing real estate.
MBA students Yishan Eva Lin and Sudharsun Jagannathan moderated the discussion on co-working (a rising trend of young professionals and start-ups sharing office spaces and administrative services) with panelists Tony Bacigalupo, mayor, New Work City; Richard Beyda, managing member, The Yard; Marissa Feinberg, co-founder, GreenSpaces; Jason Juliano, founder, So Techie Space; Molly Rubenstein, interim executive director, Artisan Asylum; Jason Saltzman, CEO and co-founder, Alley NYC; James Wahba, co-founder, Projective Space; and Event Malone, president and founder, NextFab. The students have been researching co-working as part of a
Stern Signature Project
(SSP) with the Center for Real Estate Finance Research. They explained that co-working involves a shared working environment such as an office, but unlike a typical office environment, co-workers are generally not employed by the same organization. Co-workers may share expertise, combine talents for large projects or refer business to one another, however. The students detailed their research, outlining the history of co-working, which largely emerged among freelance IT professionals in the late 1990s, and they noted that the market increased by 300% between 2005 and 2013. They also discussed common business models, challenges and costs. Panelists shared their experiences with and views on co-working, noting that demand for co-working spaces is currently bigger than the supply, and that their main selling point is a sense of community. Bacigalupo noted, "Co-working is a transformative force and represents a fundamental change in how we look at work. Soon, we'll just call it 'work.'"
The symposium featured other industry leaders including Isaac Zion, co-chief investment officer, SL Green; Alan Rifkin, managing director, Lazard Freres & Co. LLC; Thomas J. Gallagher, partner, Cozen O'Conner; James Guidry, tax partner, PwC; Ed Liva, KPMG LLP national industry leader, US real estate tax practice; Blake Rubin, partner, McDermott Will & Emory, global vice chair, US and international tax group; Jeffrey Alpaugh, managing director, Marsh Inc., global real estate practice leader; James Fetgatter, CEO, AFIRE; Frank Lively, executive vice president, Wafra, real estate division; Jon Mechanic, partner, Fried Frank, chairman, real estate department; Bob White, president, Real Capital Analytics; Prof. Edward Glaeser, Harvard University; David Karnovsky, partner, Fried Frank, and former general counsel to the NYC Department of City Planning; Steve Hentschel, Hentschel & Company; David Belt, executive director, DBI and Macro Sea; Jilliene Helman, CEO, Realty Mogul; Ben Miller, co-founder, Fundrise; Rodrigo Nino, CEO, Prodigy Network; and Scott Relick, president, KCI Investment Company.