Research Center Events
David K. Backus Memorial Lecture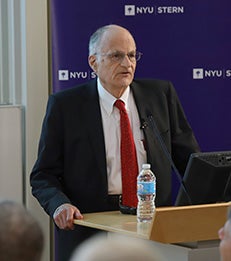 On September 18, 2017, the NYU Stern
Center for Global Economy and Business
hosted the inaugural David K. Backus Memorial Lecture featuring Professor and Nobel Laureate
Thomas J. Sargent
for a discussion entitled, "Risk Aversion or Mistaken Beliefs?"
The David K. Backus Memorial Lecture is held annually by the NYU Stern Center for Global Economy and Business. David Backus was the Heinz Riehl Professor of Economics at NYU Stern School of Business, and an intellectual leader, educational innovator and mentor to countless students and colleagues in his more than 25 years at Stern. The Lecture series has been established by his family, friends, colleagues, and students, and by Stern alumni, in memory of his contributions to the study and teaching of economics.
For more information regarding the Lecture series, please visit the​
Center's website
. A video of the 2017 Lecture, along with the slides, is available
here
.