Endless Frontier Labs Announces 2021-2022 Application Launch, New Digital Tech Track & Graduating Cohort
Endless Frontier Labs
(EFL), a program for early-stage science and technology-based startups at New York University Stern School of Business, is proud to announce the launch of the 2021-2022 application and the program's expansion into a third track:
Digital Tech
. The Digital Tech track, which supplements the existing Life Sciences and Deep Tech tracks, serves startups developing novel software, artificial intelligence, machine learning, or data and digital services with applications in finance, health, security, supply chains, education, retail, media, e-commerce, and related verticals.   
Consistent with its mission as a non-profit, EFL is a founders-first program and charges no fees and takes no equity from participating startups. No NYU affiliation or relocation to NYC is required to participate. The program is appropriate for founders from around the world seeking connections to the thriving New York and U.S. ecosystems.   
"Our mission is to bridge the gap between science and markets,"said NYU Stern Professor
Deepak Hegde
, Founding Director of EFL.  "We believe business strategy, validation by scientific peers, and connections to investors are critical for the successful commercialization of technological breakthroughs. EFL provides these inputs to help transform founders' ideas into commercial and societal impact. With the opening of our third track focused on software and data oriented startups, we look forward to deepening our impact on the information economy."   
Founders of Life Sciences, Deep Tech, and Digital Tech startups at an early stage (pre-Series A financing) are encouraged to apply for the 2021-2022 program cycle. The Endless Frontier Labs
application
is now available on the EFL website; submissions will be accepted through August 6th, 2021. Join an upcoming info session to learn more. 
Endless Frontier Labs 2020-2021 Graduates 
Along with this exciting new track announcement, EFL is also thrilled to celebrate the graduating class of its
2020-2021 cohort
. Over the past nine months,
EFL Mentors
worked with these outstanding startups in the existing Life Sciences and Deep Tech tracks to set goals and act as an informal advisory board to guide founders on how best to scale their businesses. Founders also received support from Stern MBA students. The 35 companies spanning industries such as machine learning, mobility, communications, therapeutics, computational biology, and digital health graduated in May 2021.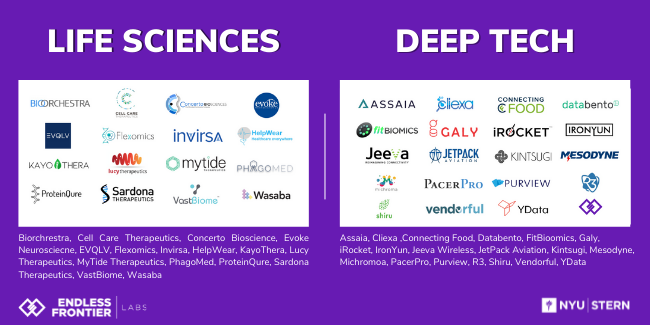 EFL is also pleased to acknowledge the generosity of NYU Stern Alumna Elizabeth Elting (MBA '92) who donated $2 million to EFL to provide investment funding for promising ventures featuring women in leadership positions or women-centric businesses that have successfully completed the program through the Elizabeth Elting Venture Fund. For the 2020-2021 cohort, funding was awarded to
Sardona Therapeutics
(Life Sciences) and
Shiru
(Deep Tech) during May's final program event. This year, over 50% of the program's graduates were led by female founders.  
More About Endless Frontier Labs
Endless Frontier Labs (EFL) is a nine-month program at NYU Stern for early-stage science- and technology-based startups. Startup founders are advised by serial entrepreneurs, investors, and technical mentors to accomplish individualized business goals at eight-week intervals. These goals are designed to maximize each startup's chance of growing into a high growth business.  Those that meet their goals are likely to attract investment from EFL mentors, as well as from one of the many venture capital firms that are represented in the program. While companies in the EFL program do not require an NYU affiliation to participate, all companies will benefit from access to and support from NYU Stern MBA students. Startups can also benefit from access to several in-kind services from EFL's corporate partners, such as advice on intellectual property issues and related matters from global law firm Greenberg Traurig, LLP and server credits from Amazon Web Services. As EFL is a non-profit academic initiative of New York University's Stern School of Business, EFL does not take equity or collect fees from participating startups. Further information can be found on EFL's
website
, with regular updates posted to our
LinkedIn
,
Twitter
and
Instagram
accounts.  
About New York University Stern School of Business
New York University Stern School of Business, located in the heart of Greenwich Village and deeply connected with the City for which it is named, is one of the nation's premier management education schools and research centers. NYU Stern offers a broad portfolio of transformational programs at the graduate, undergraduate and executive levels, all of them enriched by the dynamism and deep resources of one of the world's business capitals. NYU Stern is a community that fosters inclusion, belonging, diversity and equity, and inspires its members to embrace change in a globally changing world.  Visit
www.stern.nyu.edu
.  
---