Press Releases
Endless Frontier Labs at NYU Stern Selects 50 Science-and Technology-Based Startups for Its 2019-2020 Cohort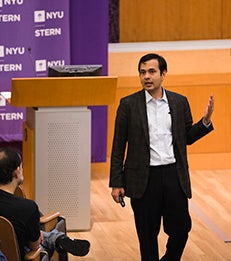 Today,
Endless Frontier Labs
(EFL) at NYU's Stern School of Business is announcing that after a successful admissions cycle, it has selected 50 early-stage science- and technology-based startups for its 2019-2020 cohort.
EFL is a nine-month program structured to optimize each participating startup's chance of scaling into a successful company through a goals-based mentoring process. For this year's cycle, the program has accepted 25 startups for each of its two specialized tracks: Life Sciences and Deep Technology.
Startups receive intensive coaching from preeminent serial entrepreneurs, access to capital from leading venture investors, technical advice from world-renowned scientists (including many from across NYU), and execution support from Stern MBA students through an affiliated course. The 65 students enrolled in the course gain the real-world experience of supporting a startup as it scales for market, collaborating directly with founders.
Consistent with its mission as a non-profit, EFL is a founders-first program, charging no equity or fees. The program targets founders from around the world seeking deep connections to the thriving New York ecosystem or U.S. markets and does not require NYU affiliation or relocation to New York City.
According to NYU Stern Professor
Deepak Hegde
, Director of EFL, "Endless Frontier Labs provides startups with an unparalleled ecosystem of business coaches, scientists, investors, and Stern MBA students to translate science and technology ideas into viable products. We believe business strategy, validation by scientific peers, and connections to investors are critical for the successful commercialization of scientific breakthroughs, and we empower startups with those resources at EFL."
Program Highlights
Applications for EFL's 2019-2020 cohort were received from (30) states in the U.S. and 17 countries.
A majority of startups that applied have at least one founder who has earned a PhD or masters degree from a top-ranked academic institution
The majority of the novel technologies were developed within a leading science, technology or healthcare university or institution
Startup applications spanned artificial intelligence, diagnostics, finance, cryptocurrency, biological science, materials, software, hardware, robotics and therapeutics
180 startups made the shortlist for EFL's interview process which included two onsite interview days at NYU Stern, an additional interview day at BioLabs New York at NYU Langone, and remote interviews to accommodate startups across the country and the world.
More About EFL
Endless Frontier Labs (EFL) is a nine-month program at NYU Stern for early-stage science- and technology-based startups. Startup founders are advised by serial entrepreneurs, investors, and technical mentors to accomplish individualized business goals at eight-week intervals. These goals are designed to maximize each startup's chance of growing into a high growth business. Startups that fail to make progress can be cut from the program at mentor discretion in order to optimize resources for startups that are excelling. Those that meet their goals are likely to attract investment from EFL mentors, as well as from one of the many venture capital firms that are represented in the program. While companies in the EFL program do not require an NYU affiliation to participate, all companies will benefit from access to and support from NYU scientists and Stern MBA students. Startups can also benefit from access to several in-kind services from EFL's corporate partners, such as advice on intellectual property issues and related matters from global law firm Greenberg Traurig, LLP and server credits from Amazon Web Services. As EFL is a non-profit academic initiative of New York University's Stern School of Business, EFL does not take equity or collect fees from startups. Further information and FAQ can be found on EFL's
website
and follow us on
LinkedIn
, Twitter at
@EFrontierLabs
, and Instagram at
@EfrontierLabs
for regular updates.
About New York University Stern School of Business
New York University Stern School of Business, located in the heart of Greenwich Village, is one of the nation's premier management education schools and research centers. NYU Stern offers a broad portfolio of programs at the graduate and undergraduate levels, all of them enriched by the dynamism, energy and deep resources of one of the world's business capitals. Visit
www.stern.nyu.edu
and follow NYU Stern on Twitter:
@NYUStern
.