NYU Teams Win $200K in Stern's 2013-2014 Entrepreneurs Challenge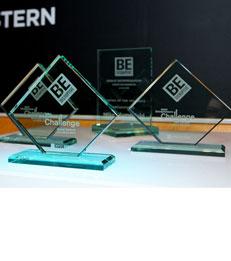 Great inventions have a long path from idea to commercialization.
At the conclusion of an eight-month competition, NYU's most promising innovators received a combined $200,000 in start-up cash at the annual $200K Entrepreneurs Challenge, held by NYU Stern's
Berkley Center for Entrepreneurship & Innovation
. The three winning teams – composed of students and alumni from across the University – were chosen after pitching their ideas and enduring Q&A by judges from venture capital, technology and design, education and social enterprise sectors.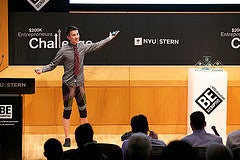 April 25 marked the culmination of one of the largest and most rigorous venture competitions in the world. More than 200 teams comprising over 500 entrants from 14 schools at NYU competed this year in one of three challenges: New Venture, for those pursuing start-ups in a variety of sectors; Social Venture, for those pursuing both social impact and financial sustainability; and Technology Venture, for those focused on bringing intellectual property developed at NYU to market. The awards presented in each category were:
New Venture Competition Winner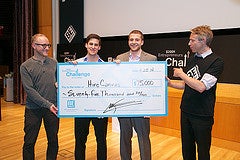 The $75,000 Rennert Prize, made possible by a gift from Stern Board of Overseers member Ira Leon Rennert (MBA '56), was awarded to
HireCanvas
. Co-founders Scott Holand (Stern MBA '14) and Kevin George are creating a better campus recruiting experience for recruiters, universities and students by managing data at campus recruiting events.
Social Venture Competition Winner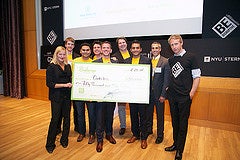 The $50,000 Social Venture Prize went to
Codesters
. Gordon Smith (Stern MBA '06), Manesh Patel, David Oblath, Prerak Shukla, Joe Schinasi, Revell Horsey, Thomas Ricard and Juan Farfan have teamed up to teach a million kids to code. They have created a tool for schools and teachers that integrates a cloud-based coding environment with a coding curriculum. They also offer teacher training and support.
Technology Venture Competition Winners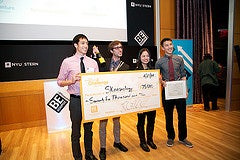 The $75,000 Technology Venture Prize was awarded to
Skinesiology
. Students from the NYU School of Medicine Franklin Yao (MD '17), Jeffrey Huang (MD '17), Jenny Chen (MD '17), Josh Phelps (MD '17) and Ryan Grattan (MD '17) have engineered fitness tights with a resistance-generating system that increases muscle activity and helps regular people burn more calories during both work-outs and daily activities.
The Technology Venture Competition is co-sponsored by the NYU Innovation Venture Fund, EisnerAmper LLP and Lowenstein Sandler LLP.
"Over the past eight months, our 12 finalists were provoked, prodded and praised by our coaches, mentors and evaluators," explained
Luke Williams
, executive director of NYU Stern's Berkley Center for Entrepreneurship & Innovation. "In the end, each team emerged with a new business concept that imagines a powerful market disruption and a plan to transform it into reality."
"Great inventions have a long path from idea to commercialization," said
Frank Rimalovski
, managing director of the NYU Innovation Venture Fund and executive director of the NYU Entrepreneurial Institute. "The Entrepreneurs Challenge provides entrepreneurs from across the University with the training, support and incentives to get potentially life-changing innovations into the marketplace."
"This year, we saw new ventures addressing a number of business, global and societal issues including: training the next generation of digitally savvy entrepreneurs, developing infrastructure for sustainable food production and distribution, and ensuring access to financial services in the developing world," said
Jill Kickul
, director of Stern's Program in Social Entrepreneurship.
The Final Pitch-Off was conducted before an audience of NYU students, faculty and alumni, who were also given a chance to vote for their favorite teams. This year,
HireCanvas
;
Atikus Insurance
; and
Ex Vivo Dynamics
, received the
Audience Choice Awards
.
In addition, faculty from Stern's Management Communications Department selected three winners for this year's
Communications Awards
, recognizing
HireCanvas
,
Codesters
and
Skinesiology
, for their exemplary presentations.
In recognition of the critical role volunteers play in mentoring, coaching, and judging the teams throughout the competition,
Mike Blumenfeld
received this year's
Mentor-of-the-Year Award
, presented by the Berkley Center's Cynthia Franklin and Loretta Poole.
This Year's Judges
New Venture Competition: William R. Berkley (Stern BS '66), chairman of the Stern Board of Overseers, vice chair of NYU Trustees, and chairman and CEO of W. R. Berkley Corporation; Brian Cohen, chairman of the New York Angels; Robert Fabricant, vice president of creative for frog design; Deborah Buresh Jackson, founder of Plum Alley and Women Innovate Mobile Accelerator; and Jane Dresner Sadaka, private investor and retired special limited partner of Kellner, DiLeo & Co.
Social Venture Competition: Lara Galinsky, senior vice president of Echoing Green; Conor Grennan (Stern MBA '10), dean of students at NYU Stern and founder of Next Generation Nepal; Greg Van Kirk, co-founder of Community Enterprise Solutions and Social Entrepreneur Corps; Sean Moore, portfolio manager for Acumen; Michael Pollack, adjunct professor of NYU Stern and managing member of Pollack Holdings; Stewart Satter (Stern MBA '82), member of the Stern Board of Overseers and CEO of Consumer Testing Laboratories, Inc.; and Suzi Sosa, co-founder of Verb
Technology Venture Competition: David Aronoff, general partner at Flybridge Capital Partners; Peter Flint, partner at Polaris; Harry DeMott, managing director at Raptor Ventures; Lawrence Lenihan, founder and managing director of FirstMark Capital; Will Porteous, general partner and chief operating officer at RRE Ventures; and Frank Rimalovski, executive director of the NYU Entrepreneurial Institute
Find out more about Stern's Entrepreneurs Challenge
Visit the NYU Stern Berkley Center for Entrepreneurship & Innovation website
---