Expanding Diverse Perspectives: NYU Stern Announces the Fred Renwick Visiting Faculty Fellows Program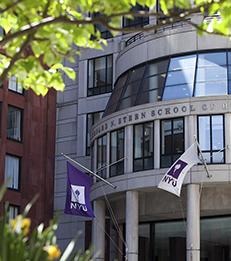 Today, New York University Stern School of Business announced the establishment of the
Fred Renwick Visiting Faculty Fellows Program
, a new program aimed at expanding the inclusion of diverse perspectives at Stern. Made possible through a generous, endowed gift from an anonymous donor to NYU Stern, the program seeks to initiate and deepen research relationships, to build and grow academic and faculty networks, and to enrich students' classroom experiences, with the perspectives of Black/African-American and other underrepresented and indigenous groups. The program is directed by Batia Wiesenfeld, the Andre J.L. Koo Professor of Management at NYU Stern.  
The initial phase of the program is being launched in collaboration with
Clark Atlanta University
(CAU), the largest of the Atlanta University Center Consortium and UNCF institutions, with the goal of welcoming two visiting faculty fellows from CAU to Stern for the spring 2022 semester. Over time, the program will be expanded to partner with other Historically Black Colleges and Universities (HBCUs) and Minority-Serving Institutions (MSIs).  
Fred Renwick Visiting Faculty Fellows will be paired with an NYU Stern faculty host to help catalyze the exploration of research partnerships and opportunities to collaborate with over 200 full-time Stern faculty. They will also have access to Stern research databases and resources, as well as NYU's global intellectual and creative community. While at Stern, fellows will teach one undergraduate or graduate course, participate in Stern department and School-wide seminars and conferences, and have additional opportunities for teaching and engagement on campus and in the NYU community. The fellowship is inspired by the memory of and named for Fred Renwick (MBA '65, PhD '66), a beloved Stern Professor Emeritus of Finance and an alumnus of both Stern and Morehouse College.  
"At New York University, we are working to build a University-wide culture of diversity, equity, and inclusion. NYU Stern's new Fred Renwick Visiting Faculty Fellows Program brings us closer to this more inclusive future," said Katherine Fleming, Provost, New York University. "Diverse perspectives and life experiences are vital to our teaching and research, and we look forward to the future collaborations this program will produce."  
"At the Stern School, as we prepare students to lead in a globalized world, it is essential that the academic environment we cultivate reflect the full richness of diverse perspectives," said Raghu Sundaram, Dean, NYU Stern. "With the launch of the Fred Renwick Visiting Faculty Fellows Program in collaboration with Clark Atlanta University—whose legacy in African-American history reaches back more than 150 years—we take another important step in this direction, while simultaneously honoring the memory of alumnus and Professor Emeritus Fred Renwick, who championed diversity throughout his life. We are especially grateful to the anonymous donor whose generous endowment has made this fellowship program possible."   
"The School of Business Administration at Clark Atlanta University is focused on creating an enabling environment for spawning transformative, innovative learning environments that produce diverse business and industry leaders," said Silvanus Udoka, Dean, CAU School of Business Administration. "The participation of our faculty members in the Fred Renwick Visiting Faculty Fellows Program at NYU Stern will help both schools of business to embrace our fervent belief in inclusive excellence in our approaches to educate our students and prepare them for the future of work."  
NYU Stern and Clark Atlanta University invite tenured, tenure-track, and clinical professors of all ranks at the CAU School of Business Administration or within related disciplines at CAU (including economics, psychology, sociology, law, philosophy, engineering, computer science, mathematics, and statistics) with a track record of strong teaching to apply. Fellows will receive compensation, housing, and other benefits. Leadership from NYU Stern and CAU will partner on the selection process of fellows.
---