Business and Policy Leader Events
Fireside Chat, Q&A and "Stern Tank" with Mark Cuban
NYU Stern's
Entertainment, Media and Techology (EMT) program
and
W. R. Berkley Innovation Labs
hosted entrepreneur, investor and ABC "Shark Tank" judge
Mark Cuban
for a fireside chat with Professor
Greg Coleman
, a Q&A with the Stern community and a first-ever "Stern Tank," featuring three NYU startups.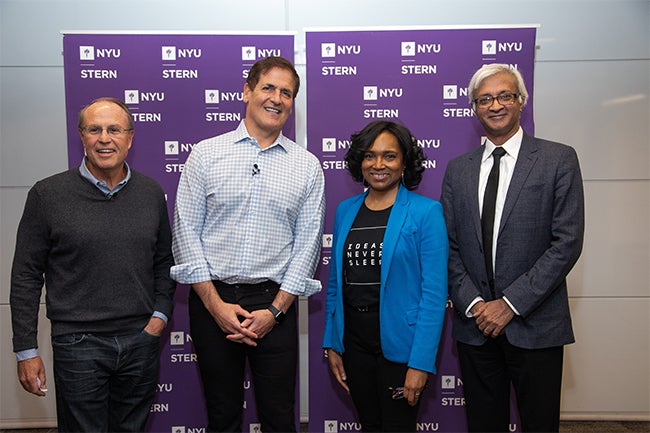 Left to right: Professor Greg Coleman, Mark Cuban, Professor Cynthia Franklin, Dean Raghu Sundaram
Following a welcome by NYU Stern Dean
Raghu Sundaram
, remarks by Professor Coleman and an introduction by MBA student and teaching fellow Sarah Kim, Professor Coleman amd Cuban covered a number of topics, ranging from the sale of Cuban's first venture, MicroSolutions, what he looks for in prospective investments and how to identify and create business opportunities.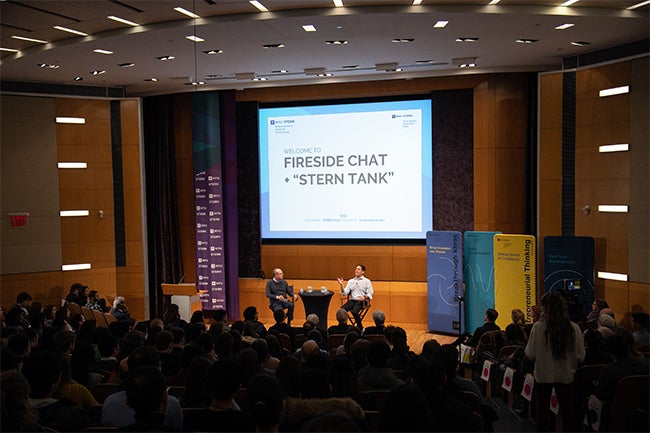 Professor Greg Coleman and Mark Cuban in Paulson Auditorium
Cuban emphasized that the way entrepreneurs are perceived today is changing, underscoring the importance of a social component in new entrepreneurial ventures in addition to treating employees well. He shared that his strength lies in paying attention to and learning as much as possible about new technologies and applying them in ways that others have not yet attempted. Looking to the future, he pointed to AI as a force potentially more influential than the Internet.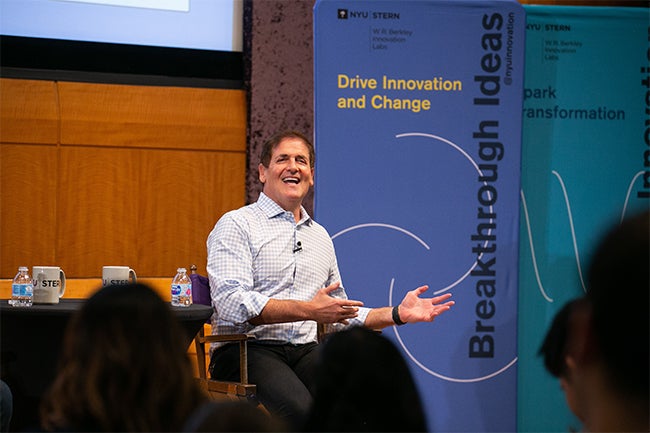 Entrepreneur and investor Mark Cuban
After an introduction by Professor
Cynthia Franklin
, director of entrepreneurship at the W. R. Berkley Innovation Labs, three NYU startups presented their businesses to Cuban for his feedback: Josh Sakhai (BS '18) of
Ephemeral
, Kobi Wu (MBA '15) of
VisuWall
and Christopher Mitchell (NYU Courant PhD '15) of
Geopipe
. Cuban talked through each venture's business model and shared his recommendations.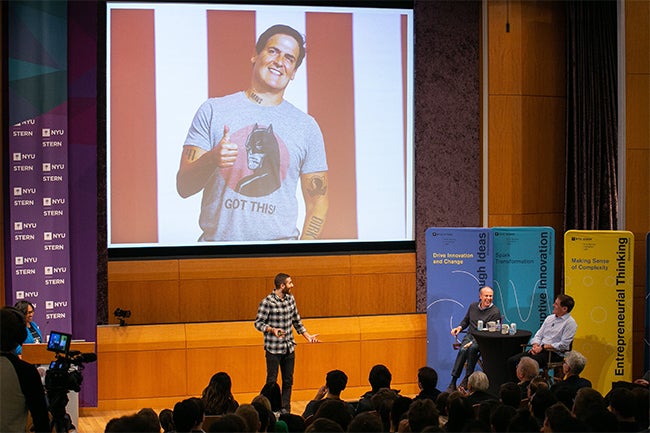 Josh Sakhai (BS '18) of Ephemeral, a company developing tattoos that disappear over time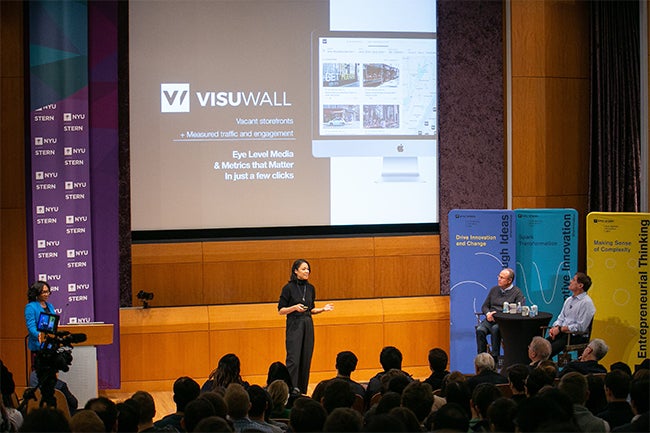 Kobi Wu (EMBA '15) of VisuWall, a platform that allows landlords to offer empty storefronts to advertisers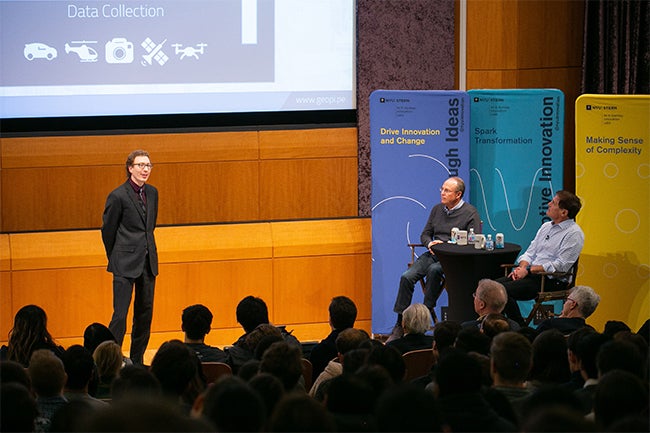 Christopher Mitchell (NYU Courant PhD '15) of Geopipe, a company creating digital models of the real world built by algorithms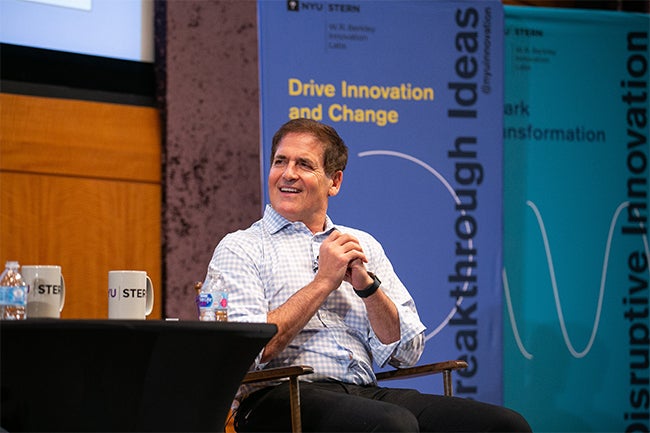 See a selection of social media posts from the event below:
"The path of least resistance is always the best way because you can iterate, you can learn..." Insights from @mcuban during tonight's Stern Tank! #nyuinnovation

— Ideas Never Sleep (@nyuinnovation) January 29, 2019
Amazing to hear insights from @mcuban tonight with Prof @GregBuzzFeed at @NYUStern. I am going to use this advice: each person brings a unique skill set and find what you love to do. Perfection is the enemy of profitability. #NYUStern #DigitalMediaInnovation

— Rachel Levy (@PreyingMantis02) January 30, 2019
Prof Cynthia Franklin, director of entrepreneurship at @nyuinnovation kicks off "Stern Tank" #DigitalMediaInnovation pic.twitter.com/a6EDLlOS6c

— NYU Stern (@NYUStern) January 29, 2019
"One line to remember: perfection is the enemy of profitability." We'll keep that one, @mcuban! ✔️ #nyuinnovation

— Ideas Never Sleep (@nyuinnovation) January 29, 2019
---