Research Center Events
Foundations of Fintech with Kathleen DeRose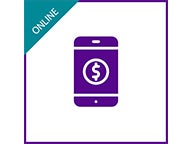 Dates
: January 25, 2021 - March 8, 2021
Cost
: $1,320
Electronic markets. Digital cash. Open banking. Automated investing. These are just some of the latest disruptions to the financial services industry. But how do these new technologies actually function? What are the implications for banks, businesses, and consumers? And, perhaps most importantly, what are the limits, risks, and societal implications? Whether you work in finance or tech, hope to have a career in fintech one day, or want to learn more about this emerging area, Fintech will answer these questions and more.
Fintech is divided into six sections focused on key fintech areas: innovation, technology, incumbents vs. startups, valuation, risk, and implications. Each section contains lessons with video lectures, readings, and assessments to facilitate learning. Students will also have the option of attending live video sessions with Professor
Kathleen DeRose
where additional questions and topics will be addressed.
For more information on this course, please
visit the course webpage
.