Press Releases
Foreign Policy Association Awards Medal to Peter Henry, Economist and Dean of NYU Stern School of Business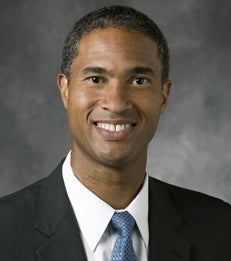 New York University Stern School of Business announced that
Peter Henry
, an economist and dean of the School, was awarded the Foreign Policy Association Medal at the organization's annual Financial Services Dinner, held last evening at the Pierre Hotel in New York City. The Medal is the highest honor bestowed by the organization.
The Foreign Policy Association (FPA) was founded in 1918 to promote a broad public awareness, understanding and informed opinion of American foreign policy and global issues and to encourage citizens to participate in the foreign policy process. The FPA awards medals annually to leading practitioners of foreign policy and to academics who research and teach in the area of U.S. foreign policy. Other past winners include former Secretary of State Hillary Clinton; William C. Dudley, President and CEO of the Federal Reserve Bank of New York; and Mo Ibrahim, Founder of the Mo Ibrahim Foundation.
In bestowing this honor on Peter Henry, FPA president Noel V. Lateef said, "We are awarding the Foreign Policy Association medal to Dean Peter Henry in recognition of his dynamic and visionary leadership of the Stern School of Business, which is preparing future business leaders for an increasingly globalized economy."
An economist, Peter Henry became dean of the Stern School of Business in January 2010, joining the School from Stanford University where he was the Konosuke Matsushita Professor of International Economics. His expertise in the areas of emerging markets and international finance has made him a regular speaker at the IMF and has led him to testify before the United States Senate Committee on Foreign Relations and before various ambassadors to the United Nations. Additionally, Henry has served as a macroeconomic advisor to the governments of Ghana and Jamaica.
His first book,
TURNAROUND: Third World Lessons for First World Growth
(Basic Books, March 2013), directly addresses such issues of economic efficiency as well as matters of international relations. In it, Henry puts forth three key principles, discipline, clarity and trust, as the roadmap for sustainable global economic growth for all nations, emerging and advanced.
At the Financial Services Dinner last evening, medals were also awarded to Peter G. Petersen, Chairman of Peter G. Petersen Foundation and Mark E. Kingdon, CEO of Kingdon Capital Management, LLC. Also recognized, with the Corporate Social Responsibility Award, were Suzan Sabancı Dinçer, Chairman and Executive Board Member, Akbank; Michael Sabia, President and CEO, La Caisse; and Bruce Van Saun, Chairman and CEO, Citizens Financial Group, Inc.
About New York University Leonard N. Stern School of Business
Located in the heart of Greenwich Village, New York University Stern School of Business is one of the world's premier research and teaching institutions. NYU Stern offers a broad portfolio of graduate and undergraduate programs, all of them informed and enriched by the dynamism, energy, and resources of the world's business capital. Visit
www.stern.nyu.edu
and follow us on Twitter,
@NYUStern
.
Contact
Joanne Hvala
, 212-998-0995