School News
Full-time MBA student Melanie Gonzalez (MBA '21) in-depth Q&A interview: "2021 Best & Brightest MBAs: Melanie Gonzalez, New York University (Stern)."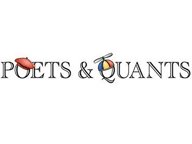 Excerpt from
Poets & Quants
-- "I was originally attracted to NYU Stern because I wanted to be in NYC, the learning opportunities (inside and outside of the classroom) and the strong brand name. Ultimately, I chose Stern because of the community. I interviewed during Stern Perspectives Interview Weekend and left knowing there was no other school for me. I witnessed a collegial tight-knit atmosphere not just amongst current students, but also the alumni who eagerly returned to conduct interviews. Stern's MBA program is much smaller (my class has 350 students) in comparison to other programs, so it's no surprise that alumni stay closely connected."
"Being located in NYC for business school has provided me the opportunity to network more efficiently and visit the offices of employers. NYU also does a fantastic job connecting students to businesses in NYC through a variety of experiential learning opportunities that I have taken advantage of. I even connected with my two in-semester internships through the School's resources."
Read More