Business and Policy Leader Events
Jacob Silverman, President of Duff & Phelps, Shares Career Tips with MBA Students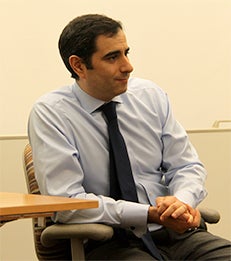 Take professional risks and remember that it's easier to take risks when you're starting out and you have little to lose. - Jacob Silverman
As part of NYU Stern's "Leadership Off the Record" series, Jacob Silverman, who was recently appointed president of Duff & Phelps, a financial advisory and investment banking firm, spoke with MBA students about his career in finance and technology. A self-proclaimed "deal maker," Silverman described his professional journey including stints as a financial analyst on Wall Street and as CFO of an Internet software start-up. He also shared several lessons-learned:
Find mentors and stick with them.
Take professional risks and remember that it's easier to take risks when you're starting out and you have little to lose.
Beware of corporate speak or "double speak."
Management is a full-time job. Motivating and leading teams can be challenging.
Listening is key! Employees who don't feel heard become demotivated and oftentimes demoralized.
Don't underestimate the importance of succession planning and creating career paths for your employees.
Learn how to be effective in both hiring and firing employees.
Coordinated by the School's Leadership Development Team, this event series gives students an opportunity to hear from senior executives in different industries on the challenges and lessons of being a leader.