Press Releases
Janet Foutty, Chair and CEO of Deloitte Consulting LLP and Chair-elect of Deloitte LLP, to Keynote NYU Stern School of Business 2019 Graduate Convocation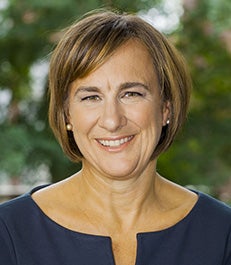 Who:
Janet Foutty
, Chair and CEO of Deloitte Consulting LLP and Chair-elect of Deloitte LLP*, Keynote Speaker, NYU Stern's 2019 Graduate Convocation ceremony
When:
Friday, May 24, 2019, 3:00-6:00pm
Where:
Hulu Theater at Madison Square Garden
Seventh Avenue between 31st and 33rd Streets, New York, NY
Additional information on Janet Foutty's keynote address:
In an era of unprecedented change and pervasive uncertainty, the question isn't whether graduates will meet this moment, but how. In her address to the NYU Stern Graduate Class of 2019, Janet Foutty will explore that "how," sharing the leadership principle that has empowered her – and the people around her – to not only own the challenges they face, but to actually solve them.
About NYU Stern
New York University Stern School of Business, located in the heart of Greenwich Village, is one of the nation's premier management education schools and research centers. NYU Stern, whose faculty includes four Nobel Laureates in Economics, offers a broad portfolio of programs at the graduate and undergraduate levels, all of them enriched by the dynamism, energy and deep resources of one of the world's business capitals. Visit
www.stern.nyu.edu
and follow NYU Stern on Twitter: @NYUStern.
To RSVP to NYU Stern's Graduate Convocation ceremony, please contact Carolyn Ritter and Jeff Piascik in Stern's Office of Public Affairs at
critter@stern.nyu.edu
/ 212-998-0624 or
jpiascik@stern.nyu.edu
/ 212-998-0906.
*Please see www.deloitte.com/us/about for a detailed description of the organization's legal structure.