Business and Policy Leader Events
Kenneth Langone Speaks to Langone MBA Students at Inaugural Speaker Series Event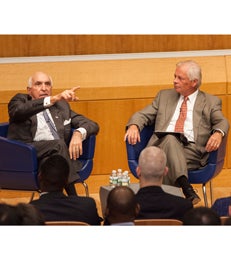 You're here at night because you want to succeed, you want to win.  --Kenneth Langone
Kenneth Langone (MBA '60), founder and CEO of Invemed and co-founder of Home Depot, joined Langone MBA students for the inaugural 2013-2014 Langone Speaker Series event. Professor Charlie Murphy moderated the discussion, beginning with a one-on-one interview and followed by an open Q&A session with students.
"A great leader gets people to do so much more than they thought they could," said Mr. Langone to a packed auditorium of Langone MBAs. Mr. Langone spoke candidly on a variety of topics including successes, failures, ethics, governance and
generational theft
. Specifically, he advised:
Failures, not successes, show your true character
You can never be too honest or have too many friends
Believe in yourself, if you really want to succeed
Don't burn bridges; create a respectable reputation
Always dream big
Watch the video:
Mr. Langone is Vice Chariman, NYU Trustees and Vice Chairman, Stern Board of Overseers. The Langone Program is named in his honor.