NYU Stern Receives $5.75 Million from Alumnus Leonard Stern to Fund Scholarship for High-Achieving, Low-Income New York City Seniors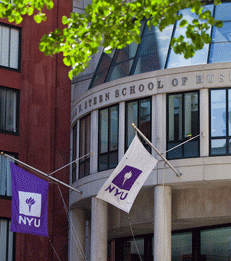 Today, New York University Stern School of Business announced the establishment of The Leonard N. Stern New York City Scholarship to support extraordinary New York City high-school seniors who aspire to study business at NYU, but lack the financial means to do so. With a $5.75 million gift from alumnus Leonard N. Stern (BS, 1957; MBA, 1959), for whom the Stern School is named, 10 high-achieving, low-income students from the city, who have been admitted to NYU Stern's Undergraduate College, will attend without the burden of debt. Mr. Stern's generous gift will benefit 40 students over four years and supports the University's "Momentum Campaign" to raise $1 billion in six years for scholarships.
"A child born in the top quartile of the US income distribution has an 85 percent chance of going to college. This statistic drops to eight percent for children in the lower quartile. Yet recent studies indicate that nearly one-fifth of all US high-school seniors who score in the top 10th percentile of standardized tests come from that bottom quartile. With Leonard's gift, we can start to change this story, beginning with talented students right in our own city. Leonard's vision will help transform the lives of promising young people and open up new doors of opportunity for them," explains John Sexton, President of New York University.
New York City-based students with high financial need, as determined by federal aid guidelines, will be eligible for consideration for the scholarship. Stern students who receive the scholarship will be named "Stern NYC Scholars". Mr. Stern's gift will take the typical financial aid package that NYU is able to offer students from low-income backgrounds and provide additional funds to cover the full cost associated with enrollment in Stern's Undergraduate College. Stern NYC Scholars will also receive funding for housing and books, and benefit from assistance in summer job placement.
"Since its earliest days, New York City has offered the promise of a path to greater opportunity for so many. NYU Stern has long provided access to the higher learning that allows people to achieve their dreams. Leonard celebrates our heritage by giving today's young, high-potential New Yorkers that same chance for an education that has the power to transform their own lives and those of their families," remarks
Peter Henry
, Dean of NYU Stern.
"This scholarship opportunity holds the great potential to be life-changing for students who have the intellect and motivation to pursue an undergraduate education at NYU Stern. We are grateful to Leonard for his generous gift and encourage all high-achieving high-school seniors with high financial need from New York City to apply. We look forward to welcoming our future Stern NYC Scholars and to continuing to build a learning community of students with diverse interests, skills and backgrounds," added
Geeta Menon
, Dean of the NYU Stern Undergraduate College.
Leonard Stern is Chairman and CEO of The Hartz Group, currently one of America's largest private owners of commercial real estate. Hartz was founded by Max Stern, a visionary immigrant from Germany, who created the world's the first mass-market pet supply company when he immigrated to the United States in 1926 with a boatload of singing canaries. Like Max, who served as vice-chairman of the Board of Yeshiva University, and for whom its Stern College for Women was named, Leonard has a strong commitment to educational philanthropy. His landmark $30 million gift in 1982 enabled NYU to consolidate its graduate and undergraduate business education facilities at Washington Square. Leonard also founded and now serves as Chairman of Homes for the Homeless, the largest non-profit provider of residential, education and employment training centers in the country, with five separate sites in New York City.
About New York University Leonard N. Stern School of Business
Located in the heart of Greenwich Village, New York University Stern School of Business is one of the world's premier research and teaching institutions. NYU Stern offers a broad portfolio of graduate and undergraduate programs, all of them informed and enriched by the dynamism, energy, and resources of the world's business capital. Visit
www.stern.nyu.edu
and follow us on Twitter
@NYUStern
.
Contacts
New York University Stern School of Business
Joanne Hvala
, 212-998-0995
or
Jessica Neville
, 416-516-7677  
---