Making its Second Investment, Student-Led NYU Impact Investment Fund (NIIF) Invests in Company that Teaches Girls to Code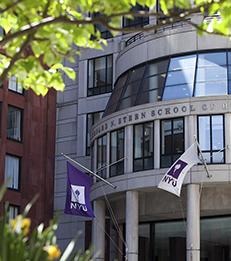 Fund makes $25,000 investment in a company whose mission is to engage elementary school aged students in STEM, particularly girls.
The student-led 
NYU Impact Investment Fund (NIIF)
 has successfully completed its second investment with a $25,000 investment in 
SmartGurlz
, whose mission  is to engage elementary school aged students, in particular girls who are currently underrepresented in STEM (Science, Technology, Engineering and Math), to learn skills in coding.
SmartGurlz is a STEM education and entertainment company whose flagship product is a line of friendly, self-balancing robots and action figures that engage and encourage girls to learn code. Connected via smartphone or tablet, SmartGurlz allows girls 6 and up to immerse themselves in STEM. The investment was made in the form of a convertible note and on NIIF's behalf by ImpactAssets, a Donor Advised Fund.  
This NIIF milestone was the culmination of a year-long experiential learning course in which graduate students of NYU Wagner and NYU Stern were placed in five deal teams to source, screen, conduct financial and impact due diligence, develop investment memorandums, and make competitive presentations to the Fund's Investment Committee composed of three Stern and Wagner alumni practitioners:  Graham Macmillan of the Visa Foundation, Monique Aiken of Mission Investors Exchange, and Casey Clark of Rockefeller Capital Management. The legal due diligence for these investment prospects was conducted by students in NYU Law School's legal clinic, making this a unique experiential learning curricular collaboration among three NYU schools.  This investment follows NIIF's first investment last year in 
Sapient Industries
, whose mission is to eliminate waste from the electrical grid using machine learning.
NIIF continues next academic year with a diverse group of 30 student participants, 15 from each school, competitively selected from more than 60 applicants. There will be an emphasis in the coming year on identifying enterprises focused on resilience and racial justice. Having recently received a $100,000 commitment, NIIF continues to actively seek philanthropic support to scale both the impact and sustainability of this innovative experiential opportunity.   
About the NYU Impact Investment Fund
Developed as a joint venture between the faculty advisors and students of New York University's Stern, Wagner, and Law schools, NIIF leverages the diverse expertise of business, public service, and law faculty to support student investors targeting social enterprises in the sectors of financial inclusion, environment, healthcare, aging, education, and food systems.   The experiential  course includes processes to train the students on impact investing, provides practitioner guest lecturers, and creates an interdisciplinary learning laboratory.  NYU schools' development staff are also pursuing additional donations and grants for NIIF to enable this experiential platform to continue well into the future. Learn more on the 
NIIF website
.
About New York University Stern School of Business
New York University Stern School of Business, located in the heart of Greenwich Village, is one of the nation's premier management education schools and research centers. NYU Stern offers a broad portfolio of programs at the graduate and undergraduate levels, all of them enriched by the dynamism, energy and deep resources of one of the world's business capitals. Visit 
www.stern.nyu.edu
 and follow NYU Stern on Twitter: 
@NYUStern
.
About NYU Wagner
Since 1938, NYU's Robert F. Wagner Graduate School of Public Service has been educating and preparing the world's future public service leaders to translate ideas into actions that have an effective and lasting impact on the public good. Our faculty's research changes the way people frame, understand, and act on important public issues. We provide our students with critical skills, access to all that New York City has to offer, and a deep understanding of context surrounding public service challenges—which they use to improve cities and communities across the globe. Ranked 10th nationally among all schools of public affairs, we offer a Master of Public Administration in Public & Nonprofit Management & Policy, Master of Public Administration in Health Policy & Management, Master of Urban Planning, Master of Health Administration, Master of Science in Public Policy, Executive Master of Public Administration, and PhD in Public Administration. Learn more at 
NYU Wagner
.
---