Press Releases
NYU and Cornerstone Research Debut Database to Track SEC Enforcement Actions
Securities Enforcement Empirical Database (SEED) offers unprecedented insight into federal securities enforcement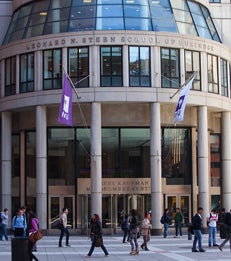 We think SEED will become a standard resource for people working in corporate law and corporate governance.
The NYU Pollack Center for Law & Business and Cornerstone Research announce the launch of the Securities Enforcement Empirical Database (SEED), located at
seed.law.nyu.edu
. SEED tracks and records information for U.S. Securities and Exchange Commission (SEC) enforcement actions against public companies. With data on SEC actions filed since October 1, 2009, SEED offers unprecedented insight into multiyear trends and priorities in federal securities enforcement.
"Our goal is to shed light on the SEC's securities law enforcement decisions," says Stephen Choi, Murray and Kathleen Bring Professor of Law and director of the Pollack Center. "SEED is the first public database to provide easily searchable and verified data to researchers, counsel, and corporations, as well as regular reports on developments and trends."
The SEC's announcement last week of its enforcement actions for fiscal year 2015 highlights the role of administrative proceedings. Of the 675 SEC actions in 2015 that did not involve delinquent filings, 168 (or about 25%) were follow-on administrative proceedings involving individual bars. The SEC did not identify how many of the 507 independent actions for violations of the federal securities laws were filed as administrative proceedings. Research by SEED finds that the SEC filed 75% of its actions against public companies in the first three quarters of fiscal year 2015 as administrative proceedings (see chart).
"Access to this data allows users to investigate differences in SEC enforcement actions against public companies, including allegation types and penalties imposed by the Commission," comments David Marcus, a vice president of Cornerstone Research. "The vast majority of SEC allegations against public companies are related to FCPA and issuer reporting and disclosure."
"We think SEED will become a standard resource for people working in corporate law and corporate governance," says
David Yermack
, Albert Fingerhut Professor of Finance and Business Transformation, chair of Stern's finance department, and director of the Pollack Center. "It highlights the possibilities when two schools work together to support important interdisciplinary research."
Student fellows from the Pollack Center gather enforcement documents from the SEC website, regularly updating SEED's information on new enforcement action filings and settlements.
A portion of Securities Enforcement Empirical Database (SEED) is available to the general public, and a more extensive version will be available for academic scholars. There is no charge for access to either version of the database. For information about academic access to SEED, please contact
law.seed@nyu.edu
.
About the Pollack Center
Established in 1997, the
NYU Pollack Center for Law & Business
is a joint venture of the NYU School of Law and the Stern School of Business. Its mission is to enrich the teaching curriculum at both schools in areas where law and business intersect; to facilitate professional interaction and academic research by faculty who share an interest in the structure, regulation, and function of the market economy; and to contribute to the public welfare by supporting scholarship that assists governmental and private policymakers in their pursuit of enhanced business productivity.
About Cornerstone Research
Cornerstone Research
provides economic and financial consulting and expert testimony in all phases of complex litigation and regulatory proceedings. The firm works with an extensive network of prominent faculty and industry practitioners to identify the best-qualified expert for each assignment. Cornerstone Research has earned a reputation for consistent high quality and effectiveness by delivering rigorous, state-of-the-art analysis for over 25 years. The firm has more than 500 staff and offices in Boston, Chicago, London, Los Angeles, Menlo Park, New York, San Francisco, and Washington.