Press Releases
NYU Shanghai and NYU Stern to Jointly Offer One-Year Master of Science Programs for College Graduates in Data Analytics & Business Computing and Quantitative Finance
Students will build skills through studies in New York City and Shanghai, gaining a global perspective to bring to companies in Asia's fast growing sectors of analytics or finance
Students will build skills through studies in New York City and Shanghai, gaining a global perspective to bring to companies in Asia's fast growing sectors of analytics or finance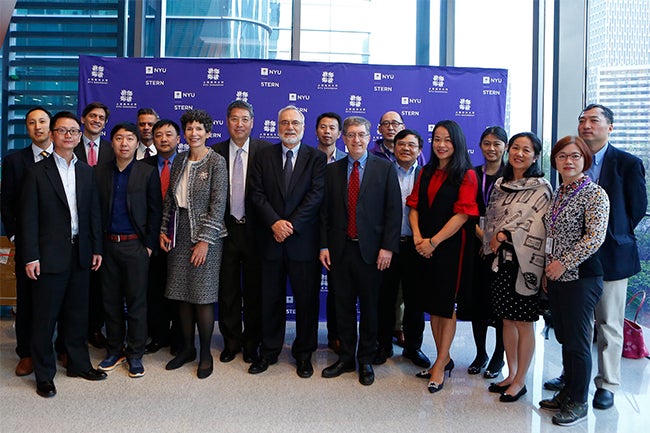 NYU Shanghai and the NYU Stern School of Business are partnering to deliver two new one-year Master of Science programs to prepare new and recent college graduates for successful careers in the rapidly evolving marketplaces of analytics and finance in China and Asia.
The jointly offered programs, an MS in Quantitative Finance and an MS in Data Analytics & Business Computing, will entail 12 months of full-time study over three semesters in two global hubs, starting with a summer semester at NYU Stern in New York City followed by fall and spring semesters in China at NYU Shanghai. The first classes will enroll in June 2019. Graduates will join an NYU alumni network of more than 500,000 worldwide in over 180 countries, including more than 17,000 alumni in Asia.
NYU Shanghai Chancellor Yu Lizhong said the launch of the two joint programs marks a new phase of development for NYU Shanghai. "The University will focus on introducing more graduate programs in the future, on the basis of exploring and innovating its undergraduate education model. We hope to cultivate more high-level talents that can contribute to the socio-economic development of Shanghai."
"This new collaboration with NYU Stern fits right within NYU Shanghai's philosophy of offering innovative graduate programs that are tailored to meet societal needs," said Jeffrey Lehman, Vice Chancellor, NYU Shanghai. "The programs are designed to combine the best of both schools and place students at the forefront of business education in China and Asia."
"We are excited to partner with NYU Shanghai and bring to bear our best finance and data science scholars to prepare the next generation of young minds to excel in two high-growth markets in Asia," said Raghu Sundaram, Dean, NYU Stern. "These new MS programs represent the latest in a line of new education models designed to give students global exposure in the course of their studies, and to support students and future employers in a rapidly evolving global marketplace."
NYU Stern is home to one of the largest faculty of computer and data scientists at any business school and is consistently top ranked in the world for finance. Stern has offered an MS in Business Analytics for senior executives since 2013 with an annual waitlist for enrollment due to demand.
With its unique platform for study and research that bridges the New York University global network with China, NYU Shanghai has been pioneering new models of international higher education since its founding in 2012. NYU Shanghai's business faculty features more than 30 distinguished scholars with vast academic and industry experience.
The MS in Data Analytics & Business Computing will teach students to use a data-driven approach to solve business challenges in today's era of big data through an interdisciplinary curriculum in business, data science and management science. Through the MS in Quantitative Finance, students will focus on the modern financial architecture and its functions, including the range of technical innovations that have given rise to Fintech. Each program also features an affiliated advisory board of senior industry leaders from companies around China and Asia, such as Chailease Group, Ctrip, Dangdang, Didi, IBM, Jinde Fund, KKR, Ping An, Publicis Media, Tencent, VIPKid, Xin Tian Fund Management, XY Investments and ZhenFund, among others. Both programs will culminate with a capstone project to solve a real case situation presented by a corporate client, including projects sourced from the advisory boards.
For more information on the programs and admissions process, visit the
website
.
About NYU Shanghai
NYU Shanghai is the third degree-granting campus of NYU and the first Sino-U.S. joint university in China. With an enrollment of 1,600 students and a distinguished multinational faculty of 250, NYU Shanghai exemplifies the highest ideals of contemporary higher education. At the undergraduate and postgraduate level, NYU Shanghai's programs prepare graduates to be creative leaders with global vision.
About New York University Stern School of Business
New York University Stern School of Business, located in the heart of Greenwich Village, is one of the nation's premier management education schools and research centers. NYU Stern, whose faculty includes three Nobel Laureates in Economics, offers a broad portfolio of programs at the graduate and undergraduate levels, all of them enriched by the dynamism, energy and deep resources of one of the world's business capitals.