School News
NYU Stern Announces Inaugural Class for its New Executive MBA Washington, D.C. Program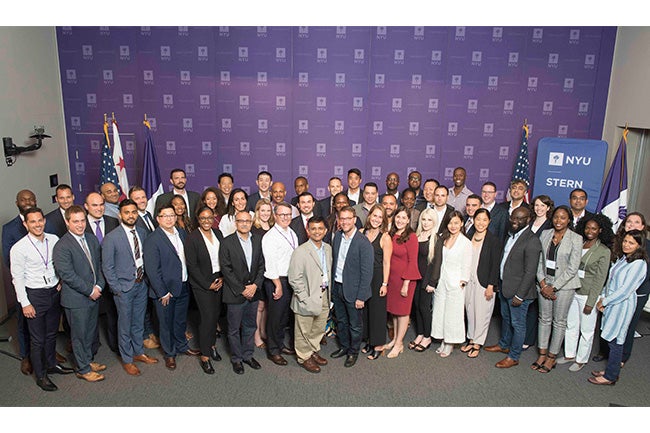 The inaugural class of NYU Stern's EMBA D.C. program
Today, NYU Stern posted its inaugural class profile for its new
NYU Stern Executive MBA (EMBA) Washington, D.C.
, program.
The Class Profile can be found on the
Stern EMBA D.C. program page
. The inaugural class enrolled 50 students. A few quick highlights of note:
Women comprise 36% of the class, exceeding the 30.1% all-time high of female students enrolled in EMBA programs overall, according to the 2017 EMBAC survey.
On average, students have 13 years of work experience, creating a strong peer-to-peer learning environment built on years of real-world experience in senior management.
Students come from a diverse set of industries including financial services, healthcare/pharma, government/military, high tech and more. Examples of current employers include Capital One, the World Bank, Deloitte, The Congressional Black Caucus, the Smithsonian, the U.S. Army among others.
66% of incoming students are based in the D.C. area, with others traveling from as far Maine, Florida, Illinois and other states, given the convenient once-a-month weekend format.
About NYU Stern's EMBA D.C. program -- the highest ranked EMBA in Washington, D.C.
With the new program, which extends NYU Stern's New York City-based EMBA program to downtown Washington, D.C., senior-level executives who work in the surrounding region, along with others who can travel periodically, can earn an MBA from the highest ranked EMBA program in this local market. The program offers a unique format that meets once-per-month, Friday through Sunday, to limit travel time and maximize time at work and at home. Students earn 60 credits by completing the required coursework and attending classes taught by the same seasoned faculty as those at the NYC campus. Graduates earn an MBA from NYU Stern and then join NYU's extensive network of 500,000+ alumni.