Press Releases
NYU Stern Announces Three New Scholarship Funds to Support High-Achieving Transfer Students from Community Colleges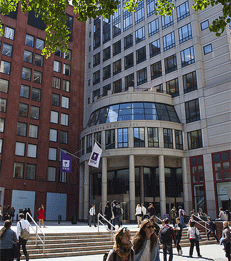 New York University's Stern School of Business is pleased to announce the establishment of three new scholarship funds for high-potential students transferring from a two-year community college who have been admitted to the Undergraduate College. The scholarships, the first of their kind for transfer students, are made possible thanks to the generosity of Howard Meyers, BS '64 and his wife Rory Meyers; Pamela Craig, MBA '84, and her husband Robert V. Delaney Jr., MS '82; and Martin Cohen, MBA '76 and his wife Michele Cohen, all of whom believe in the transformative power of scholarship. Their scholarships help support
Stern's Access Initiative
, which aims to create more full-need undergraduate scholarships for talented, low-income students with the brightest future potential.
Howard Meyers Scholarship Fund Endowed with a $3 Million Gift
With a generous endowed gift of $3 million from the Howard Meyers Family Foundation, Howard Meyers, chairman of Quexco Inc., and his wife, Rory, are continuing to broaden the scope of what it means to increase access to education. The Howard Meyers Scholarship Fund will provide significant financial aid to students transferring from primarily community colleges to NYU Stern. The Howard Meyers Scholars will have a proven history of academic excellence and will have completed two years of undergraduate coursework before being accepted to NYU Stern for their junior and senior years. NYU Stern will welcome the first cohort of two scholars in Fall 2018. As loyal supporters of NYU, Meyers, a member of the Stern Board of Overseers and an NYU Trustee, together with Rory, also established a significant scholarship program in 2016 at the NYU Rory Meyers College of Nursing.
Pamela J. Craig Scholar Fund Established with a Generous Gift
In the same spirit of opening the doors of opportunity for all deserving students, Pamela J. Craig, MBA '84, and former CFO of Accenture, and her husband, Robert V. Delaney Jr., MS '82, made a generous gift to create the Pamela J. Craig Scholar Fund at NYU Stern. With this gift, Stern will offer much-needed financial aid to community college transfer students from City University of New York (CUNY). Up to two full two-year scholarships will be awarded to incoming juniors each academic year. First priority will be given to LaGuardia Community College students where Ms. Craig leads a program of mentors from the Women's Forum of New York. In her role as Chair of the Board at Comprehensive Development Inc., she also has a track record of working with diverse students in need at three downtown Manhattan public schools. In keeping with her passion to advance opportunity through education, Ms. Craig recently joined the NYU Stern Board of Overseers and looks forward to having a further direct impact on the lives of Stern Students.
Martin Cohen Scholarship Fund Created with a $300,000 Gift
Martin Cohen, MBA '76, chairman of Cohen & Steers, and his wife Michele, established the Martin Cohen Scholarship Fund in recognition of the need to encourage high-achieving transfer students to pursue a four-year degree at Stern where they will receive a world-class business education.The generous $300,000 gift will support two transfer students from The City University of New York (CUNY) for both their junior and senior years at Stern. The Cohen Scholars will also enroll in Fall 2018.
Approximately seven million undergraduate students are enrolled in community colleges today, many of whom are high-achieving but unable to attend elite universities due to financial constraints. With the steadfast support of our dedicated alumni and friends, Stern is committed to opening doors for high-achieving students across all educational paths and family incomes, and providing economic, academic, and social support to ensure their success throughout their business education and into their careers.
Stern will support the transfer students' transition through mentorship, academic advising, and leadership training programs aimed at helping the scholars fully integrate into the NYU community and take advantage of the many resources and opportunities available at Stern, NYU, and throughout New York City.