NYU Stern Launches New BS in Business, Technology and Entrepreneurship for Undergraduate Business Students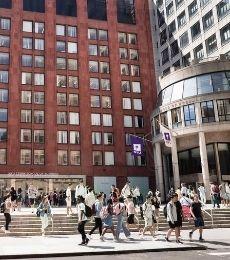 New York University Stern School of Business today announced the launch of a new focused undergraduate business degree program in technology and entrepreneurship designed to instill college graduates with an entrepreneurial mindset, and business and technology tools, to play transformative roles in today's dynamic and tech-driven business world.  
The four-year, STEM-certified BS in Business, Technology and Entrepreneurship (BTE) program is the first U.S. undergraduate business program of its kind to seamlessly integrate business, technology and entrepreneurship.  It will reside in Stern's Undergraduate College and will enroll its inaugural class of 30 to 50 undergraduate business students in August 2021. Stern's Undergraduate College is ranked in the top five by both
US News & World Report
and
Poets & Quants
.  
"These past few months alone have proven unequivocally that there is an urgent need for agile, entrepreneurial problem-solvers who understand technology deeply and who can adapt and innovate swiftly in the midst of uncertainty and rapidly changing conditions," said Raghu Sundaram, Dean, NYU Stern. "This unique program will deliver an integrated and cutting-edge approach to teaching to cultivate these essential qualities in the next generation of college graduates."  
The BTE program builds upon Stern's robust footprint in the technology and entrepreneurship arena. In 2018 Stern welcomed the first class of its novel STEM-designated Andre Koo Technology and Entrepreneurship MBA. This past May, the School's nine-month Endless Frontier Labs, a program for the most promising early-stage science and technology-based startups worldwide, graduated its first cohort. In the Undergraduate College alone, the Computing and Data Science concentration is already the second most popular among students behind finance, and the percentage who minored in Computer Science doubled over the past five years. 
"In designing this program with our faculty and with input from the business community, there is no question that this is the degree of our time – an undergraduate program that is deeply connected to the New York City tech ecosystem and that is built for the future of business," said Robert Whitelaw, Vice Dean of Stern's Undergraduate College. "BTE graduates will be well positioned to take on business and technology roles at both large and small technology companies, consulting firms and banks, and others may choose to start their own ventures." 
BTE students will go through the program as a cohort, taking immersive courses in technology and entrepreneurship to gain both technical knowledge in analytics and coding along with an aptitude for managing uncertainty and ambiguity. Some required courses as well as electives tap talent from across NYU, including faculty from NYU's Courant Institute of Mathematical Sciences and Tandon School of Engineering. The technology and entrepreneurship component of the program structure consists of a four-part integrated curriculum:
Tech & Entrepreneurship Immersion – an experiential course that integrates the entrepreneurship and technology ecosystem of NYC into the classroom
Technology Coursework – to build foundational competency in computer science and data analytics in an approach geared for business application
Entrepreneurship Coursework – students will develop a comfort with navigating uncertainty and learning adaptivity. These lessons will be learned through experiences inside and outside of the classroom
Capstone Course – in which students develop their own ventures or work on a strategically important entrepreneurial project for an early-stage startup
"Our recent study of entrepreneurship education at top business schools underscores the dire need for imaginative entrepreneurship programs that break away from traditional business education," said Ashish Bhatia, Professor and BTE Academic Director, who teaches the capstone course and also has a forthcoming journal article on entrepreneurship education in
Academy of Management Learning & Education
. "The BTE program is exactly the type of program that can instill a new type of thinking." 
A hallmark of all of Stern's undergraduate business programs is integrated coursework in the liberal arts and social impact. Like Stern's foundational BS program, BTE students will take approximately 50 percent of their courses in the liberal arts to develop strong critical thinking and global awareness, including Stern's social impact core. They will also complete Stern's renowned business core and participate in global immersion programming.
About New York University Stern School of Business 
New York University Stern School of Business, located in the heart of Greenwich Village and deeply connected with the City for which it is named, is one of the nation's premier management education schools and research centers. NYU Stern offers a broad portfolio of transformational programs at the graduate, undergraduate and executive levels, all of them enriched by the dynamism and deep resources of one of the world's business capitals. NYU Stern is a community that fosters inclusion, belonging, diversity and equity, and inspires its members to embrace change in a globally changing world. Visit stern.nyu.edu.
---