Press Releases
NYU Stern Launches Online Master of Science in Quantitative Management Program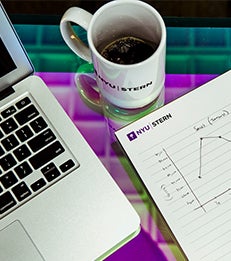 New Degree Designed for Early Career Non-business Majors to Build Knowledge in Business Fundamentals and Business Analytics
New Degree Designed for Early Career Non-business Majors to Build Knowledge in Business Fundamentals and Business Analytics
New York, NY, Feb 13, 2019: Today New York University Stern School of Business announced the launch of a new online Master of Science in Quantitative Management Program (MSQM), officially marking its entrance into the online degree category as the first and only top-ranked U.S. business school to deliver an MS in Management online.
The program will enable high-potential individuals without an undergraduate business degree and who may be early in their careers to experience the breadth of a business core along with an emphasis on the quantitative side in business analytics. These skills are rapidly becoming a requirement for career advancement and success in today's data-driven world.
"As technology has fast become the new language of business and global demand for flexible learning modalities has continued to rise, Stern has pioneered new models from specialized MBA programs to online certificate courses taken by students in more than 100 countries," said
Raghu Sundaram
, Dean, NYU Stern. "With our track record of innovation and one of the largest faculties of computer and data scientists among business schools, our MS in Quantitative Management program fills a market need."
"We assessed the competencies that give graduates of our MBA programs a measurable advantage in the marketplace and set out to develop an online program that delivers those high-demand skills with our MS in Quantitative Management," said
Kim Corfman
, Vice Dean for Online Learning. "Our newest offering is ideal for non-business majors who seek knowledge, credentials and the flexibility of an online degree at this crucial stage in their career development."
Students will complete the MSQM program in 20 months, taking 22 courses in the foundations of business and business analytics, one at a time and in lockstep with their cohort of classmates –a format that maximizes work-life balance. The curriculum covers accounting, business strategy, customer insights, data mining, finance, Fintech, leadership, predictive analytics and more, with the same Stern faculty who teach on campus. During two short residential immersions, students will complement their online learning with intensive interactive coursework at NYU Stern's Greenwich Village campus. These short, on-campus sessions will give students the opportunity to meet and network with fellow classmates and faculty, and experience one of the world's premier business and cultural hubs firsthand.
As alumni, MSQM graduates will join NYU Stern's global alumni network, gaining access to more than 110,000 alumni across industries in 138 countries. MSQM students who have not completed the degree and wish to further their education with an MBA will be eligible to apply to Stern's Langone Part-time MBA program and use the credits they have earned online toward their MBA degree.
NYU Stern's MSQM program begins in August 2019 with the first residential immersion. For more information, visit the
NYU Stern MSQM website
.
About New York University Stern School of Business
New York University Stern School of Business, located in the heart of Greenwich Village, is one of the nation's premier management education schools and research centers. NYU Stern, whose faculty includes four Nobel Laureates in Economics, offers a broad portfolio of programs at the graduate and undergraduate levels, all of them enriched by the dynamism, energy and deep resources of one of the world's business capitals. Visit
www.stern.nyu.edu
and follow NYU Stern on Twitter: @NYUStern.