Press Releases
NYU Stern Names Its New One-Year Technology and Entrepreneurship MBA in Honor of Alumnus Andre Koo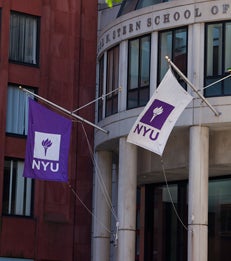 Andre Koo's landmark gift is a groundbreaking investment in the future of technology, innovation and entrepreneurship at NYU Stern.
New York University's Stern School of Business today named its new one-year Technology and Entrepreneurship MBA in recognition of a significant gift from alumnus Andre J.L. Koo (MBA '94), Chairman, Chailease Group, and his wife, Jana. The Andre Koo family's gift will support the School's new MBA program, which will enroll its first class in May 2018.
"Andre Koo's landmark gift is a groundbreaking investment in the future of technology, innovation and entrepreneurship at NYU Stern," said Andrew Hamilton, President, New York University. "We are honored to have Andre and Jana's tremendous support, and see it as a vote of confidence in NYU to be in the vanguard of educating future leaders who can create value in a world transformed by technology."
The Andre Koo Tech MBA signifies a new category of specialized MBA, optimized for MBA seekers with a strong background in technology and a firm commitment to careers that integrate business with technology, particularly in Product Management, FinTech and Tech Entrepreneurship across industries. This one-year, full-time, focused MBA program consists of five components: a business core; a technology core; experiential learning through company projects, called Stern Solutions; immersions in Silicon Alley and Silicon Valley; and electives.
"Our ties with Andre Koo and his family run long and deep. With three generations of Koo family members as Stern students, we are proud of and grateful for their legacy of support to the School," said Peter Henry, Dean, NYU Stern. "Andre and Jana's gift comes at a critical point in our trajectory, keeping us on a rapid, ascendant path towards being the higher ed epicenter of the burgeoning tech ecosystem here in New York City."
The Andre Koo Tech MBA program was developed in conjunction with industry and includes a Tech Advisory Board composed of leaders from Amazon, BoxGroup, BuzzFeed, Citigroup, General Catalyst, Goldman Sachs, IBM, Jigsaw, Microsoft and PayPal.
"Companies have expressed to us an urgent need to close the talent gap with people who can lead the integration of technology with business goals," said Raghu Sundaram, Vice Dean for MBA Programs. "The Andre Koo family gift will enable us to produce this highly sought after talent needed by firms as technology continues to disrupt traditional business models across virtually every sector."
The Andre Koo Tech MBA builds upon Stern's continued commitment to innovate at the intersection of business and technology. Stern was the first among top business schools to deliver a course on the blockchain in 2014, which led to the creation of an official FinTech specialization in the MBA program in 2016. Over the past five years, technology placements for NYU Stern's Full-time MBA students have more than doubled to nearly 17 percent for the Class of 2017, making technology the third top sector of employment after finance and consulting.
About Andre J.L. Koo
Andre J.L. Koo is Chairman of Chailease Group, which is comprised of Chailease Holding and Yellowstone Holding. Chailease Holding, the core Taiwan financial services company, was founded in 1977. It is listed on the Taiwan Stock Exchange and has operations in Taiwan, the United States, China, Thailand, Vietnam, Malaysia, Cambodia and the Philippines. Chailease Holding provides clients with leasing, installment sales, factoring and direct financing services. It is the market leader of leasing and installment sales in Taiwan, and is the largest foreign-owned independent leasing company in China. Yellowstone Holding owns subsidiaries that engage in a number of diverse business activities including equity investment, industrial equipment sales, polymer processing and sales, real estate construction and development, interior design, private security, property management and hospitality.
Koo serves on the NYU Board of Trustees and Stern Board of Overseers, and is President of the NYU Pan-Asia Alumni Association, which he established. He is the son of Stern graduate, the late Dr. Jeffrey Koo (MBA '62), considered the "father of the credit card" in Taiwan, and father of current Stern Undergraduate College student Andre Koo, Jr. (BS '18). The Koo family has created a legacy of support at Stern through student scholarships, an endowed faculty Chair and in transforming the lobby of Stern's graduate building into a vibrant environment for collaboration and conversation among the Stern community.
About New York University Leonard N. Stern School of Business
New York University Stern School of Business, located in the heart of Greenwich Village, is one of the nation's premier management education schools and research centers. NYU Stern, whose faculty includes three Nobel Laureates in Economics, offers a broad portfolio of programs at the graduate and undergraduate levels, all of them enriched by the dynamism, energy and deep resources of one of the world's business capitals. Visit
www.stern.nyu.edu
and follow NYU Stern on Twitter: @NYUStern.