NYU Stern to Offer New FinTech Specialization in the MBA Curriculum Starting Fall 2016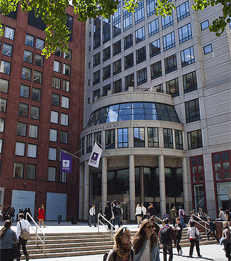 Full-time and Part-time MBA students eligible
NYU Stern School of Business, known for its academic strength in finance, is expanding its MBA curriculum to prepare students for future jobs in FinTech as the finance industry faces one of the most significant disruptions in its history. Beginning in Fall 2016, Stern's full-time and part-time MBA students can choose FinTech as a
specialization
, a first among top business schools, and take electives from a menu of eight new courses.
"Technology continues to transform the business landscape at a breathtaking pace," noted
Raghu Sundaram
, Vice Dean of MBA Programs and Online Learning. "Business education needs to innovate to keep pace with the rapid rate of change. The launching of the FinTech specialization, a joint creation of our Finance and Information, Operations and Management Sciences (IOMS) departments, is an important step in this direction."
Stern was early to market with an initial business school course on Bitcoin, offered in the Fall of 2014 and co-taught by Professor of Finance
David Yermack
, when questions about how to regulate digital currencies began to surface. Investments in financial technology have increased from $1.8 billion in 2010 to $19 billion in 2015.1
"The mechanism by which people exchange financial assets will look incredibly different five years from now," predicts Yermack, also Academic Co-Chair of the FinTech specialization. "Inevitably, there will be more peer-to-peer exchanges without a human middleman to certify the transaction. In addition to start-ups, many jobs will be situated in legacy banks that are currently racing to catch up with the technology."
Adds Professor of Information Systems
Alexander Tuzhilin
, the other Academic Co-Chair of the specialization, "FinTech is about how modern information technologies are disrupting the financial services industry. Stern has combined its considerable strengths in both finance and technology to create courses that discuss how these two areas blend together to enable new business models, innovations and opportunities."
FinTech courses will address a range of subjects including trading strategies; transaction security, and trade clearing and settlement; data management; risk management; financial data analytics; regulation and the impact of digital currencies on the financial services industry; mobile payments; and entrepreneurial crowdfunding. FinTech will be listed among the more than 20 specializations currently available in the NYU Stern MBA curriculum.
"The emergence of FinTech demonstrates how powerful the intersection of disciplines can be to drive innovation," says
Peter Henry
, Dean of NYU Stern. "This collaboration of thought leadership among our faculty gave rise to our new specialization, and the approach can empower all of our students in their pursuits to solve problems and create value in any sector."
Several Stern faculty are currently conducting research in FinTech on issues ranging from corporate governance and the blockchain, to robots and investing. A new FinTech faculty seminar series will commence this summer to foster discussions about research. In addition, Stern faculty will facilitate a Design Sprint challenge, a one-day event for innovators in-and-around the New York City community to think disruptively about the future of banks. The brainstorming will unfold in a phased approach, where participants will take advantage of NYU resources, methodologies and tools to reinvent the competitive dynamics of the banking industry. The School also plans to host a FinTech conference on November 9, featuring Stern alumnus and keynote Dan Schulman, CEO of PayPal.
About New York University Leonard N. Stern School of Business
New York University Stern School of Business, located in the heart of Greenwich Village, is one of the nation's premier management education schools and research centers. NYU Stern, whose faculty includes three Nobel Laureates in Economics, offers a broad portfolio of programs at the graduate and undergraduate levels, all of them enriched by the dynamism, energy and deep resources of one of the world's business capitals. Visit 
www.stern.nyu.edu and
follow NYU Stern on Twitter: @NYUStern.
1 Citi GPS March 2016 Report
Contacts
NYU Stern School of Business
Jessica Neville, 416-516-7677
jneville@stern.nyu.edu
---