Student Club Events
Reaching Out MBA Conference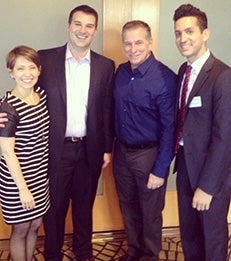 [Reaching Out MBA] was an amazing opportunity to think critically about the intersections between business and identity. - Nick Pulito, first-year MBA student
On October 2nd, over 30 Stern students and administrators descended on San Francisco for the Annual Reaching Out MBA (ROMBA) Conference. The weekend came on the heels of good news from the Stern Administration announcing an LGBT fellowship, and included Stern-facilitated admissions, alumni, and career events. This year's journey to ROMBA highlights a school-wide effort to enhance the experiences of Stern's LGBTQ students, an important focus of OutClass, Stern's LGBTQ affinity student group.
Approximately 22 full-time and 5 Langone students attended ROMBA. For those attending the conference for the first time, the experience did not disappoint. First-year Nick Pulito said, "ROMBA was an amazing opportunity to think critically about the intersections between business and identity. I feel like I have a new toolkit to bring back to Stern with me." The weekend alternated between career development and educational sessions. The career fair featured 80 companies, including firms that don't typically attend career fairs or recruit on the East Coast such as McKinsey, Google, and Apple. In addition, six keynote speakers shared their stories and challenged LGBTQ MBAs to lead the charge for equality.
A common theme of the weekend was how business is uniquely positioned to lead the way for LGBTQ equality and has already made great inroads. For example, investment banks and consulting firms were some of the first private sector champions for LGBTQ employees. Dozens of companies have followed suit. A list of the Best Places to Work in 2014 for LGBTQ people and Allies can be found on the Human Rights Campaign's website.
Read more about this event in
The Stern Opportunity