Press Releases
Robert Greifeld, CEO of Nasdaq, to Keynote NYU Stern School of Business 2015 Graduate Convocation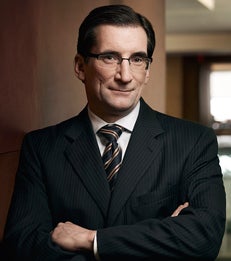 Who: Robert Greifeld, CEO of Nasdaq & NYU Stern alumnus (MBA '87)
Keynote Speaker, NYU Stern's 2015 Graduate Convocation ceremony
When: May 21, 2015, 3:00-6:30pm
Where: The Theater at Madison Square Garden
Seventh Avenue between 31st and 33rd Streets, New York, NY
Additional Information on Keynote Speaker Robert Greifeld
Mr. Greifeld will discuss the role of dynamic and well-functioning capital markets in frontier and emerging economies. He will stress the importance of ensuring the efficient movement of capital and resources in driving job growth, infrastructure development and economic prosperity.
Mr. Greifeld will share Nasdaq's fundamental guideposts for doing business.
Mr. Greifeld is an NYU Stern MBA alumnus, Class of 1987.
About NYU Stern
Founded in 1900 and located in the heart of Greenwich Village, New York University Stern School of Business is one of the world's premier institutions of management education. With its more than 300 faculty and three Nobel Prize winners, NYU Stern offers graduate and undergraduate academic programs that use New York City and global hubs around the world as classroom environments for learning.
To RSVP to NYU Stern's Graduate Convocation ceremony, please contact Carolyn Ritter in Stern's Office of Public Affairs at
critter@stern.nyu.edu
or 212-998-0624.