Press Releases
Roxanne Hori Joins NYU Stern School of Business as Associate Dean to Lead New Integrated Corporate Relations and Career Services Department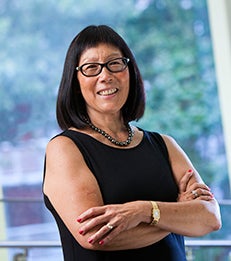 New York University Stern School of Business announced that Roxanne Hori has joined its leadership team in the newly created position of Associate Dean of Corporate Relations, Career Services and Leadership Development. In this role, she will build, sustain and manage a broad array of corporate relationships that underpin the career development program for MBA students and alumni, as well as forge new relationships with companies across sectors and markets around the world.
"As new industries emerge and grow, redefining the nature of the workplace and creating new means of value, it is essential that we identify and build strong relationships with the leading companies of the 21st century," said
Peter Henry
, Dean of NYU Stern. "Roxanne Hori, with her proven record of leadership in both corporate and university roles, is well positioned to establish crucial links among our students, alumni, and corporations."
Ms. Hori comes to Stern with 35 years of experience in industry and higher education. She served at the Kellogg School of Management at Northwestern University for many years, holding the positions of Assistant Dean, Director of Career Management, and most recently, Associate Dean of Corporate Partnerships. As Director of Career Management, she led a team in providing career services to more than 3,000 Kellogg students in the full-time, part-time and Executive MBA programs as well as to 50,000 Kellogg alumni. While serving at Kellogg, Roxanne created a number of innovative programs that increased job placement and alumni satisfaction and have been emulated at other business schools.
Prior to pursuing a career in higher education, Roxanne served as a Vice President of Northern Trust Company. There, she led a team in recruiting for corporate, summer internship and the Inroads program that placed underrepresented minorities in internship positions. Earlier in her career, she worked in human resources at Arthur Young & Company and at Arthur Andersen & Co.
Ms. Hori serves as board chair of the Forté Foundation and as a member of the Chicago Advisory Board of Facing History and Ourselves.
About New York University Stern School of Business
Founded in 1900 and located in the heart of Greenwich Village, New York University Stern School of Business is one of the world's premier institutions of management education. With its more than 300 faculty and three Nobel Prize winners, NYU Stern offers graduate and undergraduate academic programs that use New York City and global hubs around the world as classroom environments for learning.