Student Club Events
SHA Annual Healthcare Conference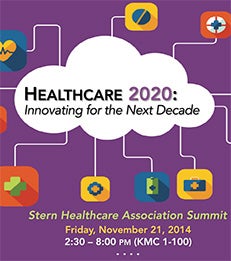 On Friday, November 21st, the
Stern Healthcare Association
(SHA) will host its Annual Healthcare Summit. The theme for this year's conference is Healthcare 2020: Innovating for the Next Decade. Speakers and attendees will be exploring the ways in which the industry is continually evolving to create more transparency, efficiency, and effectiveness in the healthcare system, stimulated by new technologies and unique partnerships. This year's keynote speakers include:
George Barrett, chairman and CEO of Cardinal Health
Inder Singh, founder and CEO of Kinsa
Tom X. Lee, CEO of One Medical Group and co-founder of Epocrates
This conference will also include two panel discussions focusing on "Innovation & Informatics" and "Strategic Partnerships and M&A" - with panelists from Johnson & Johnson, the U.S. Food and Drug Administration, Barclays, Kadmon Corporation, Pfizer, the Helmsley Charitable Trust, and more!
The conference will close with over an hour of networking with students, professors, and industry professionals. Attending companies include: Deloitte, Pfizer, IMS, and many more. The entire event will be catered.
For more information or to register, please visit the
conference webpage
.