Business and Policy Leader Events
Dan Schulman, CEO and President of PayPal, Joins MBAs for Langone Speaker Series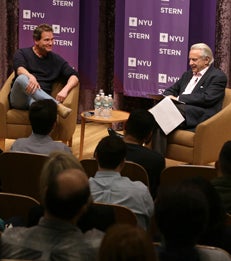 If you want the big reward, you have to take the big risk.
Dan Schulman (MBA '86), CEO and President of PayPal, joined MBA students and alumni for a 2015-2016 Speaker Series event, presented by U.S. Trust. Professor
Al Lieberman
moderated the discussion, beginning with a one-on-one interview and followed by an open Q&A session.
Throughout his career, Schulman held leadership positions in American Express, Sprint Nextel, Virgin Mobile USA, Priceline and AT&T. With his determined nature and deep knowledge of payments and mobile technology, Schulman was attracted to PayPal's competitive edge and joined the company in 2014, just as the company announced intentions to separate from eBay. In sharing his perspective, Schulman specifically noted there is a huge opportunity for digital payments to expand globally. For companies with expansion aspirations, the ability to think globally and not just multinationally is key. "Managing and moving personal finances should be a right around the world, not a privilege," he said. "In this way, business can be a driving force for good."
Schulman attributes much of PayPal's success as an independent business to the accomplishments and strength of his employees. When hiring new talent, he looks for people who are inspired to make a difference in the world, demonstrate resilience and learn from past experiences and failures. "A clear company mission separates good talent from great talent," he stated.
Throughout the interview, he offered advice to students and alumni who seek careers in the online commerce industry:
If you're truly going to innovate, you will most likely fail. You need to be comfortable with failing and then be able to learn from it.
Winning isn't everything. If you get knocked down, you need to learn how to get back up again.
Don't focus on the next promotion, but rather the task in front of you at the moment.
If you want the big reward, you have to take the big risk.
Watch the full video here:
___
This Langone Speaker Series event was co-hosted by Stern's MBA Office of Student Engagement & Berkley Center for Entrepreneurship and Innovation.