Business and Policy Leader Events
Stern EMBA Speaker Series: Jo Ann Jenkins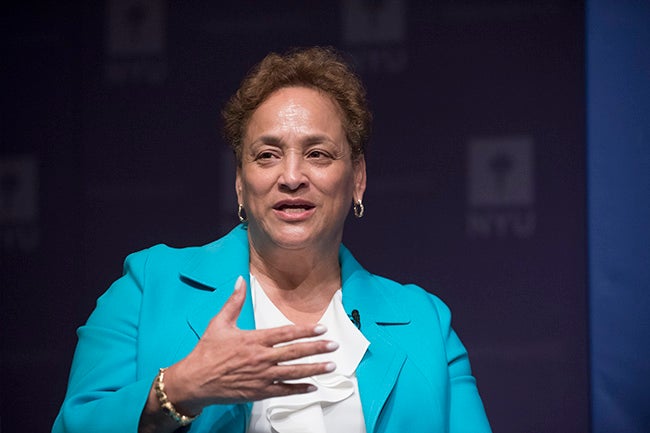 Jo Ann Jenkins, CEO, AARP
On July 19, 2019, NYU Stern's
Executive MBA Program
and NYU Washington DC hosted a
Stern EMBA Speaker Series event
at NYU's downtown DC location featuring Jo Ann Jenkins, CEO of AARP.
As CEO of AARP, Jo Ann Jenkins leads the world's largest non-profit, nonpartisan membership organization, harnessing the power and passion of almost 2,300 staff members, 60,000 volunteers and numerous strategic partners. Since joining the organization in 2010 and heading it since 2014, she has transformed AARP into a leader in social change, dedicated to empowering people to choose how they live and age.
Her best-selling book,
Disrupt Aging: A Bold New Path to Living Your Best Life at Every Age
, has become a signature rallying cry for revolutionizing society's views on aging by driving a new social consciousness and sparking innovative solutions for all generations.
Jenkins began her career with the U.S. Department of Housing and Urban Development, later moving to the US. Department of Transportation and U.S. Department of Agriculture in a variety of leadership roles with increasing responsibility. Interlaced with her public service, she served in several private consulting firms, advising major corporations in their development and implementation of diversity and organizational strategy. In 1994 she was asked to join the Library of Congress as a senior advisor, then Chief of Staff, becoming its Chief Operating Officer in 2007.
Professor
Naomi Diamant
, Assistant Dean of Executive Programs and Academic Director of EMBA Programs, introduced Ms. Jenkins. NYU Trustee
Ronald D. Abramson
(WSC '71), Shareholder, Buchanan Ingersoll & Rooney, PC, led the fireside chat.
Stern's Executive MBA Speaker Series in Washington, D.C. is designed to foster a deeper, interdisciplinary understanding and broader perspective of current issues, opportunities and challenges leaders face in today's dynamic business environment.
Learn more about Stern's Executive MBA programs in NYC and Washington, D.C.
here
.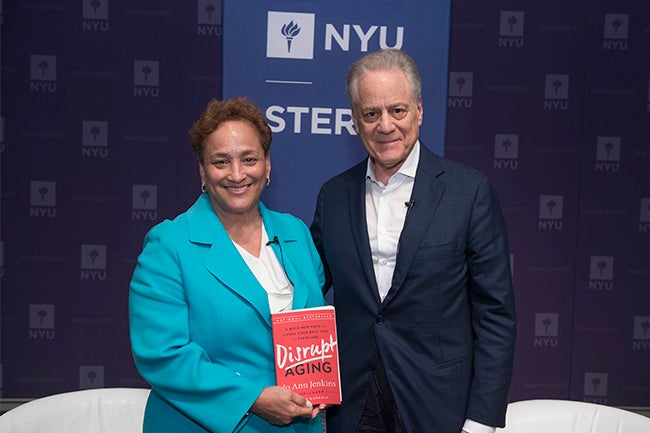 Jo Ann Jenkins, CEO, AARP, and NYU Trustee Ronald D. Abramson, Shareholder, Buchanan Ingersoll & Rooney, PC.