Stern MBA Students Give Back to the NYC Community and Support Small Businesses Impacted by Covid-19 through SternWorks: Serve NYC
This spring in response to the coronavirus pandemic, NYU Stern launched SternWorks, a major new initiative aimed at connecting MBAs with vital small businesses in need of help to share their skills. By focusing efforts on the types of small businesses and nonprofits that are most acutely feeling the economic pain of the current crisis, the goal is to provide students an opportunity to put their business skills to work for those who need support more than ever before. One pillar of the new initiative, SternWorks: Serve NYC, focuses specifically on short- and long-term volunteer opportunities for MBA students to give back to the NYC community. 
One recent SternWorks: Serve NYC project this spring involved a partnership with the
NYC Department of Small Business Services
, which helps unlock economic potential and create economic security for all New Yorkers by connecting New Yorkers to good jobs, creating stronger businesses, and building thriving neighborhoods across the five boroughs. Working with Stern's Office of Career Development and Office of Student Engagement, students from Stern's two year Full-time MBA, focused Andre Koo Technology and Entrepreneurship MBA, focused Fashion & Luxury MBA and Langone Part-time MBA programs provided a variety of critical services to small business owners in NYC that were impacted by Covid-19 and worked to adapt to the quickly evolving situation. Support from Stern MBA volunteers included providing financing assistance via small group webinars and one-on-one consultations, helping process loan applications, and working to help navigate complicated processes in order to secure essential assistance from various programs. Altogether, the MBAs helped more than 450 NYC business owners.
Read more from Stern MBAs about their experience supporting NYC Small Business Services through SternWorks: Serve NYC: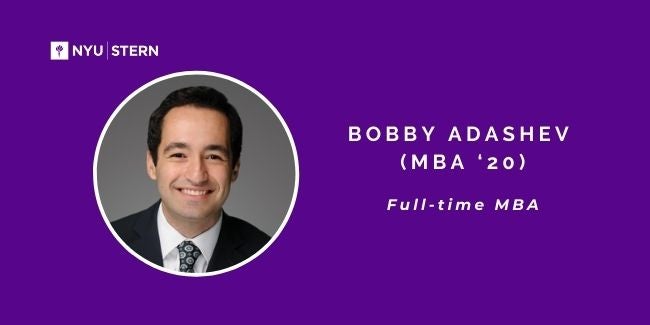 Bobby Adashev (MBA '20), Full-time MBA program
"I participated in SternWorks because I knew that small businesses would be especially adversely affected by COVID and that the SternWorks program would give me the opportunity to help those businesses. My SternWorks Project involved helping New York City's Department of Small Business Services reach out to business owners impacted by COVID to help them get emergency loans. I conducted webinars regarding PPP (Paycheck Protection Program) Loan Forgiveness then followed up with one-on-one sessions with small business owners interested in learning more about the PPP. Additionally, I helped borrowers with applications for the crowdfunding platform Kiva, a peer-to-peer microfinancing platform that connects business owners with lenders willing to contribute to no-interest loans. In my time with the SBS, I've helped dozens of business owners get on the path to securing financing for their firms. I also created a presentation for the SBS to help them better explain the range of financing focused services they offer to small business owners and what impact those services have made."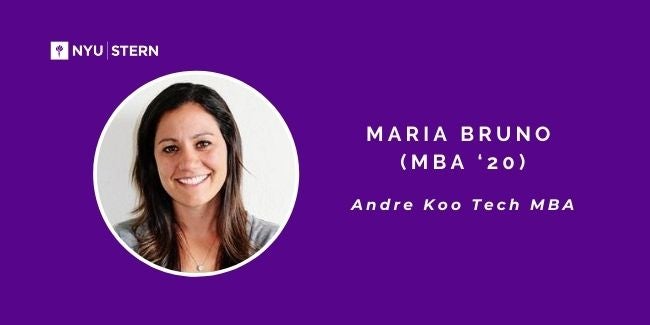 Maria Bruno (MBA '20), Andre Koo Technology and Entrepreneurship MBA Program 
"In mid-March, the New York Department of Small Business Services (SBS) developed programs to help local small business owners discover and use the quickly evolving financial and structural resources available to help them stay afloat during the Covid-19 shutdown. In order to help disseminate the most current information, SBS needed volunteers to lead bi-weekly webinars. When I found out about this program through SternWorks, it was a clear way to help support the city that I had gotten to know and love during my time at Stern. While there was (and still is) so much uncertainty about the effects of Covid-19 on New York, the chance to use my previous professional experience leading trainings and webinars to deliver twice-weekly clear, actionable information to small business owners gave me a sense of a value to help contribute to the community."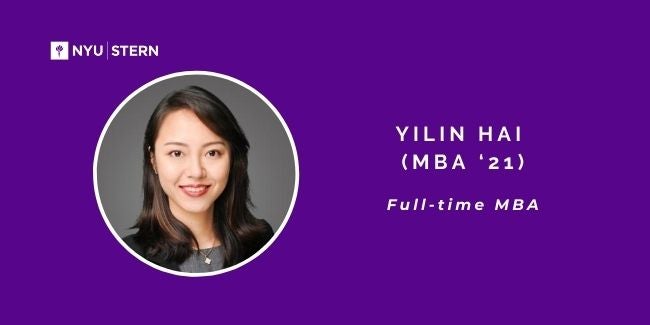 Yilin Hai (MBA '21), Full-time MBA program
"My summer internship was postponed, which gave me one month of free time. Witnessing the challenges brought by the pandemic, I wanted to use that time to do something meaningful. As I was actively looking for opportunities, the Office of Career Development announced the SternWorks initiative, which included the volunteer program at SBS. I believed it would be not only a learning experience for me, but also an opportunity to directly support the community during these difficult times. So I applied for it and joined the program.
"I worked in the fund access team to connect businesses to the funding options. I conducted weekly webinars and one-on-one sessions with business owners regarding PPP Loan Application, processed crowd-funding applications, and helped with some side projects. There are many businesses in urgent need of money, and the owners need help to understand the criteria of different financing options and the corresponding application process. When I talked to a business owner, I felt I was contributing my share to fight the pandemic and bring businesses back to the city."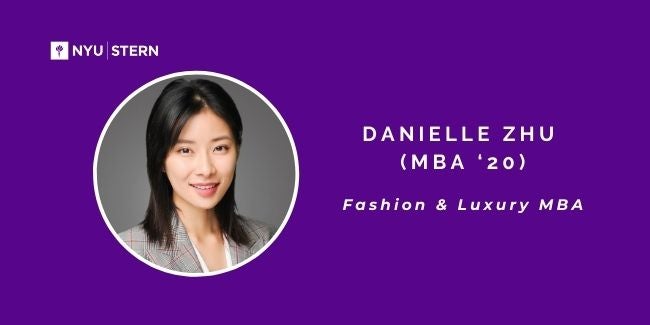 Danielle Zhu (MBA '20), Fashion & Luxury MBA program
"I was looking for an opportunity to contribute to COVID-19 relief efforts in New York City. The project that the NYC Small Business Services (SBS) Department offered via SternWorks was a great way for me to help small businesses affected by COVID-19. Additionally, they needed a Chinese translator to communicate with Chinese-speaking small businesses, and with Chinese as my first language, I was more than happy to help. During the project, I put together materials covering state and federal loans, grants, reopening guidelines, and other useful resources for small business owners. We held weekly webinars in both English and Chinese in which I presented the materials and conducted a live Q&A session with individual business owners to assist them with their unique needs. It was a pleasure to help small business owners through such challenging times, and the experience gave me more insights into government assistance programs as well as the unique stories of small business owners in a wide variety of industries."
---