Press Releases
NYU Stern MS in Business Analytics Program Holds Module in Shanghai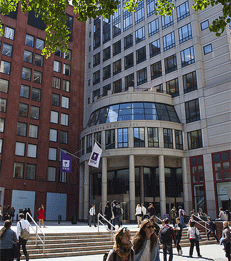 70 business analytics students traveled to Shanghai for a key module in their MS in Business Analytics program
Learning how to form a visual narrative about your business problem through data visualization is particularly useful for the capstone.
70 business analytics students traveled to Shanghai for a key module in their MS in Business Analytics program
In pursuit of a deeper strategic understanding of how big data increases competitive advantage, 70 energetic business analytics students came to Shanghai for a key module in their
MS in Business Analytics (MSBA) program
.
The one-year, hybrid modular program holds a total of five on-site intensive in-class modules. Students spend two weeks in New York for the first module, a week each in London and Shanghai for the second and third modules before they return to NYU Stern in New York to complete their remaining classes and present their capstone projects. In addition to the in-class modules, students spend an average of 20-25 hours per week on group projects and individual work.
Students represent a broad spectrum of sectors including financial services, nonprofit, health, education and IT. They study quantitative methods while learning about the role of evidence-based data and modeling to support strategic business goals. The program's unique perspective is to create a cohort of professionals who can serve as business leaders who can leverage the power of data for competitive advantage. With courses like Decision Under Risk, students learn how to apply the right tools and skills to creative solutions for a wide range of business problems.
On October 27th, the MSBA program held their first ever NYU Shanghai Executive Education Day during the module, and it was a highlight of the week. Senior business practitioners from China joined students at NYU Shanghai's Pudong campus to share their insights on Fintech, technology and banking, and financial consulting.
"The speakers who came in for executive education day were enlightening – we were able to see how truly global many of the analytics strategies we've learned about are. We were shown the unique challenges and advantages companies in China have relative to companies in London and New York," said student Samantha Feldman, who works as a People Analytics Manager at Gray Scalable.
In addition, students also joined evening meetings in preparation for the Business Analytics Capstone, which are group projects that tie together their global learnings and practical casework taught throughout the year.
"Learning how to form a visual narrative about your business problem through data visualization is particularly useful for the capstone," said Feldman.
Eitan Zemel, Associate Vice Chancellor for Strategy at NYU Shanghai and Vice Dean for Global Executive Education at NYU Stern, noted that the module was a great example of the global collaboration between the NYU Stern and NYU Shanghai schools. "This is the fourth year that the MSBA program has traveled to Shanghai," he said. "Our students view the opportunity to visit and study in Shanghai as a key attribute of the MSBA program. They particularly appreciate the opportunity to understand Chinese perspectives on the opportunities and applications of business analytics. We look forward to many future Shanghai modules to come."
About New York University Leonard N. Stern School of Business
New York University's Stern School of Business, located in the heart of Greenwich Village, is one of the nation's premier management education schools and research centers. NYU Stern, whose faculty includes three Nobel Laureates in Economics, offers a broad portfolio of programs at the graduate and undergraduate levels, all of them enriched by the dynamism, energy and deep resources of one of the world's business capitals. Visit
www.stern.nyu.edu and
follow NYU Stern on Twitter: @NYUStern.