Student Club Events
22nd Annual Stern Women in Business (SWIB) Conference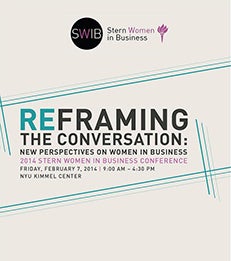 Date
: Friday, February 7, 2014
Location
: NYU Kimmel Center, 60 Washington Square South, New York, NY 10012
Time
: 9:00 a.m. to 4:30 p.m.
Stern Women in Business (SWIB) will host their 22nd annual conference on Friday, February 7. This year's theme, "Reframing the Conversation: New Perspectives on Women in Business," will feature a keynote talk from Rosanne Haggerty, President of Community Solutions, as well as a keynote panel. Breakout sessions will focus on metrics for success and the unique value that women bring to the workplace. Panel topics include: Gender Equity in Business School; 4 Stories, 4 Decades: Now and Then; Social Change; Peeling Back the Curtain; and Women for Women: Mentorship and Advocacy. SWIB encourages conference attendees to explore the roles and perceptions of women in business, how values in business are developed, and the roles of women in business today.
For more information or to register, please visit the
SWIB conference page.