Student Club Events
TechCon 2019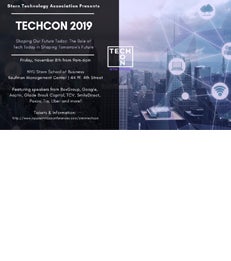 Date:
Friday, November 8, 2019
Location:
NYU Stern, New York, NY 10012
Tickets for TechCon, the flagship event hosted by the Stern Technology Association, are now live. The event, being held on Friday November, 8th, is a conversation between MBA students and Tech industry leaders about the challenges, trends and innovations in the industry.
This year, the conference will center on the theme: "Shaping Our Future Today: The Role of Technology in Shaping Tomorrow," and includes a lineup of speakers including David Tisch, managing partner of Box Group, who will serve as keynote speaker, as well as representatives from Uber, Google gaming, Aaptiv, TCV, Paxos, SmileDirect, Tia and more. Current students, alumni and those in the wider tech community are all invited.
For more details and registration, please visit the
conference website
.