Student Club Events
TechCon 2022: Tech to the Future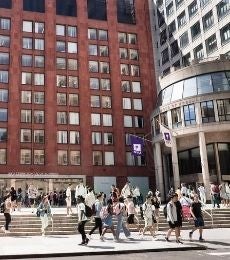 Dates:
March 22-24. Each day contains two sessions at 12pm-1pm and at 4:30pm-5:30pm
Welcome to TechCon 2022: Tech to the Future! TechCon is the annual flagship event of the Stern Technology Association at the NYU Stern School of Business. This three-day event is a conversation between MBA students and tech industry leaders about the challenges, trends, and innovations in the industry.
This year, we've invited industry experts and pioneers in technology to discuss Tech to the Future, with a focus on emerging trends in technology and the disruptive power of tech in the years to come. With this theme, we aim to explore the opportunities and innovations in tech now and into the future.
Current and prospective Stern students, Stern alumni, students from other business schools, other NYU students, and members of the community at large are all invited. Please register
here
.