Press Releases
Tensie Whelan Joins NYU Stern to Establish New Center for Sustainable Business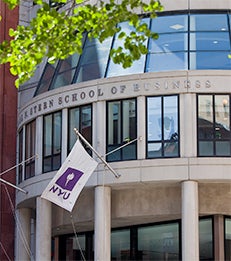 Tensie's commitment to sustainability and her record of dynamic leadership make her the perfect fit to chart this course at Stern. - Professor Bruce Buchanan
New York University Stern School of Business today announced that Tensie Whelan, currently the president of the Rainforest Alliance and a key leader in the realm of environmental activism and stewardship, will join the Stern faculty to establish and lead a new Center for Sustainable Business beginning in January 2016. The Center will assist future and current business leaders in tackling the environmental and human challenges confronting business and society today.
Whelan, an alumna of NYU (BA '80), brings to Stern 25 years of experience working on local, national and international environmental and sustainability issues. Over the past 10 years, businesses confronting reputational and supply chain challenges due to environmental problems and unsustainable development have begun to move beyond compliance to proactive mainstreaming of sustainability into their business operations.
"What's remarkable about Tensie is not only her courage and conviction to imagine a world in which profit and principle can co-exist, but also her skill and will to transform that vision into action," said
Peter Henry
, dean of NYU Stern. "We encourage our students to embrace the tools of business when it comes to tackling some of the world's most intractable problems. Tensie is the ideal role model to lead by example on issues that are critical to long-term prosperity and economic growth."
As president of the Rainforest Alliance, Whelan built the organization from a $4.5 million budget to $50 million, transforming the engagement of business with sustainability and recruiting 5,000 companies in more than 60 countries to work with the organization. She partnered closely with sustainability leaders from multinationals, CEOs from around the world, key NGO and United Nations leaders, as well as funders.
"More and more, society and consumers expect companies to address social and environmental issues in their business models. Corporations, in turn, are seeking new employees who come ready to innovate and contribute. As educators, we have a responsibility to help our students develop their perspectives and skills to meet this new reality. Tensie's commitment to sustainability and her record of dynamic leadership make her the perfect fit to chart this course at Stern," said
Bruce Buchanan
, C.W. Nichols Professor of Business Ethics and director of Stern's Business and Society Program.
"Stern puts a premium on value creation for business as well as society, a philosophy that matches my own," noted Whelan. "Coupled with its prime location in New York, home to the financial sector, Silicon Alley, the UN and NGOs, Stern has an unprecedented opportunity to drive this conversation. I'm honored to have the chance to pursue this mission with my colleagues at Stern," she added.
As director of the Center, Whelan will partner with faculty at Stern and across New York University, as well as with leading practitioners from business and civil society, to create new undergraduate, graduate and executive education courses that emphasize real-world experiential learning. In addition to research and teaching activities, each year the Center will convene groups of companies from different sectors and parts of the world with stakeholders and experts to explore solutions for a major environment and development challenge in the business sector. She will begin teaching in January 2016.
Whelan serves on the advisory boards of Social Accountability International, Sustainable Brands Advisory Board, and Corporate Eco Forum, and is the co-chair of the steering committee of the Sustainable Food Lab. She holds a master's degree in international communication from American University's School of International Service and a bachelor's degree in political science from New York University. Whelan's published work includes one of the first books on ecofriendly tourism, Nature Tourism: Managing for the Environment. She has been recognized as one of the "100 Most Influential People in Business Ethics" by Ethisphere for several years.
About New York University Stern School of Business
New York University Stern School of Business, located in the heart of Greenwich Village, is one of the nation's premier management education schools and research centers. NYU Stern offers a broad portfolio of academic programs at the graduate and undergraduate levels, all of them informed and enriched by the dynamism, energy and deep resources of one of the world's business capitals. Follow NYU Stern on Twitter:
@NYUStern
.