Microfinance is Focus of Seventh Annual Citi Conference in Leadership and Ethics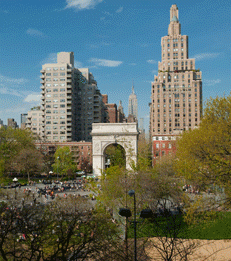 The seventh annual conference organized by the Citi Leadership & Ethics Program and NYU Stern's Business and Society Program Area - with generous support from the Citi Foundation - brought together academics, practitioners, and selected students to explore market-based solutions to some of the world's most intractable social problems.
This year's Distinguished Citi Fellow in Leadership and Ethics, Mary Ellen Iskenderian, President and CEO of Women's World Banking, keynoted the 2010 conference, sharing her insights on microfinance and the role of women entrepreneurs in improving emerging economies.

Speakers included:
Mary Ellen Iskenderian, President and CEO, Women's World Banking
Nejira Nalic, Executive Director, Mi Bospo in Bosnia
Bob Annibale, Global Director of Microfinance, Citi
Jonathan Morduch, Professor of Public Policy and Economics, Robert F. Wagner Graduate School of Public Service, NYU
Watch a video about the conference
Past Conferences
With the generous support of the Citi Foundation, five Markets, Ethics and Law Programs ethics in Business Conferences have been presented at Stern. Each event has drawn sellout crowds, with constituents from the business and academic communities, as well as the public sector.
Where the Market Meets the Environment (March 6th, 2009)
Corporate Social Responsibility In The Global Environment Conference (February 22, 2008)
Investment Ethics: Today's Challenges (March 23, 2007)
New Challenges in Regulating Financial Markets (March 24, 2006)
Institutional Investors as Owners (February 4, 2005)
Integrity of Financial Markets (December 5, 2003)
---