Digital Innovation Takes Center Stage at Eighth Annual Future of TV Conference
Convening approximately 130 industry experts, NYU Stern MBA students and alumni, and academics, the Eighth Annual Future of TV Conference focused on digital media and innovation in today's rapidly changing TV industry. Hosted by Digital Media Wire, in association with NYU Stern and the Consumer Electronics Association, the event was co-chaired by Professor
Al Lieberman
, executive director of NYU
Stern's Entertainment, Media and Technology
Program, and Ned Sherman, CEO and publisher of Digital Media Wire.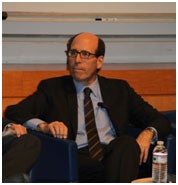 Professor Al Lieberman interviewed Matthew Blank (left), chairman and CEO of Showtime Networks Inc., home to hit premium cable shows including Dexter, Weeds and Californication. Blank shared his view on Showtime's competition, pointing to HBO as a direct competitor. The rest of the TV industry landscape, he says, is like the weather: "It always changes and is unpredictable." Emphasizing the importance of distribution, Blank predicted that game consoles will be an important part of any entertainment company's digital delivery strategy in the future.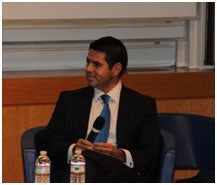 Cesar Conde (right), president of Univision Networks, discussed the rapid growth of Univision, a Spanish-language TV network in the US, with Georg Szalai, New York bureau chief and business editor of The Hollywood Reporter. Consistently ranked among the Top 5 networks in the US, Univision is exploring new ways to provide content that has "Latin flare with a US twist." Citing examples of Univision's customized content for the Spanish-speaking market, Conde highlighted the network's new reality dance show, a Latin version of Dancing with the Stars. Expressing concern over the country's declining graduation rates, he underlined Univision's important role in addressing societal issues and referenced the company's mission – to inform, entertain and empower Latin Americans in the US.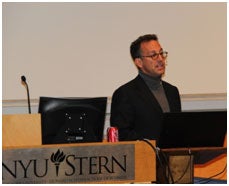 John Penney (left), executive vice president of strategy and business development for Starz, underlined the ongoing hunger for great storytelling among today's audiences, arguing that cable networks are the best platform for scripted television. Looking to the future of television content, Penney argued that producers need to evaluate show ideas with a new lens: "Would someone in a foreign country enjoy this too?"
Panels throughout the day addressed topics including the outlook for TV and digital media, transmedia franchises, how to use digital tools to build community around TV properties, the evolution of advertising, mobile video and new distribution strategies. Panelists represented a number of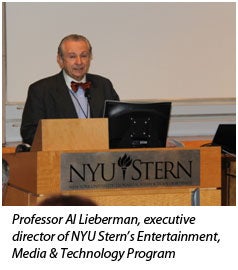 prominent media and entertainment enterprises including A&E Television Networks, Disney/ESPN/ABC, Google, Fox Mobile Group, Microsoft, MTV & VH1 Digital, NBC Universal, TiVo, TV Guide Digital, Verizon, Wired and Yahoo! Connected TV.
Learn more about NYU Stern's Entertainment, Media & Technology program
---