Stern Student Corporation Presents $20k Check to East River Development Alliance
On Thursday, July 30, Dean of Students and Associate Dean of MBA Student Affairs Gary Fraser joined second-year MBA student Debra-Ellen Glickstein, co-founder of the East River Development Alliance (ERDA), and members of the NYU Stern Student Corporation (SCorp) to present a $20,600 check to Bishop Mitchell G. Taylor, CEO of ERDA, and to participants who have benefited from the organization's programs.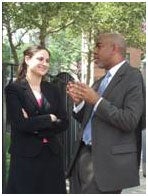 Debra-Ellen Glickstein and Dean Gary Fraser
SCorp selected ERDA as the recipient for funds raised at the annual NYU Stern Charity Ball, held at Tavern on the Green last fall. More than 600 members of the NYU Stern community contributed to the effort.
The funding will be used to support the ERDA Building Wealth Academy, which helps families in public housing communities achieve short-term financial goals such as paying off debt, repairing credit and accumulating savings for emergencies, as well as long-term goals including planning for a child's college education, starting a business, buying a home or planning for retirement.
"I am inspired to be part of NYU Stern – a community that cares so much about sharing its resources and talent with those who can benefit most," says Glickstein. "In addition to the financial gift to ERDA, my classmates have taken time from their busy schedules to support ERDA's critical work – speaking to fifth graders about their careers, serving as mentors to first-generation, college-bound high school students, assisting parents in securing their earned income tax credit and working with job seekers to prepare for interviews."

Watch coverage of the check presentation event on NY1
---