And the Winner is… $175K Awarded to NYU Teams in Stern's Entrepreneurs Challenge
On April 30, the winners of NYU Stern's 11th Annual New Venture Competition and 6th Annual Social Venture Competition received more than $175,000 in seed money and in-kind support. After pitching their venture ideas, the three winning teams, each led by NYU students and alumni, were chosen by a panel of investors and business owners in the social enterprise and for-profit sectors.
Reflecting an increased commitment to socially responsible businesses, this year's Social Venture Competition saw a 29 percent increase over last year in the number of teams that entered the competition. This year's prize-winning social ventures took on large-scale issues including dental care and access to clean water.
Stern's Entrepreneurs Challenge is one of the largest and most rigorous business plans competitions in the country, attracting 165 teams this year and lasting eight months. Teams compete in either the New Venture Competition or the Social Venture Competition; the latter teams pursue a double bottom line of social impact and financial sustainability or profitability.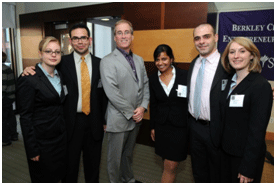 11th Annual Business Plan Competition Winners
The Ira Rennert Entrepreneurial Prize of $75,000, which is made possible by a gift from NYU Stern alumnus and member of Stern's Board of Overseers Ira Leon Rennert (MBA '56), was awarded to
ToVieFor.com
.
The founders of ToVieFor.com, NYU Stern alumna Susanne Greenfield (BS, '06) and Melanie Moore, offer the most coveted designer handbags and accessories at 40-70 percent off retail through an online Dutch auction.
6th Annual Social Venture Competition Winner
The Stewart Satter Family Prize of $100,000, which is made possible by a gift from NYU Stern alumnus and member of Stern's Board of Overseers Stewart Satter (MBA '82), was shared by
America Smiles
($75K) and
Water Canary
($25K).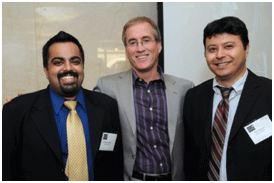 Addressing a global emergency – the fact that three million people die every year from drinking contaminated water – NYU Stern MBA student Geetika Agrawal (MBA, '10); John Dimatos, Zoe Fraade-Blanar and Sonaar Luthra of the NYU Tisch Interactive Telecommunications Program; and Abigail Keene-Babcock of the Acumen Fund, have teamed up to develop the Water Canary, a fast, networked water testing device for disaster response efforts. In addition to reliable water testing, the Water Canary provides network data, aimed at reducing the time and funds needed to respond to water-related disasters. With this technology, first responders will be able to quickly identify safe and unsafe water supplies, and target their efforts to areas in need.
America Smiles aims to bring oral health care to millions of Americans who do not have adequate access to dental care. The organization will organize, fund and facilitate students from dental schools across the United States, who need clinical experience, to treat and educate those Americans, primarily children, living in areas where care is needed. NYU Stern MBA student Chirag Sadana (MBA, '12) and Alex Ruano will be partnering with the NYU College of Dentistry to pilot their venture in the Northeast region.
In addition to the seed money awarded, the winning teams will receive support from the Stern Incubator program, benefiting from $10,000 in pro-bono legal and consulting support, an extensive mentor network, ongoing technical assistance, educational programs and University resources. New this year, incubatees will have access to office space, provided by NYU Polytechnic Institute and Sunshine Suites.
The audience also had a chance to vote for their favorite teams, selecting America Smiles and ToVieFor.com, as this year's Audience Choice Award recipients.

Find out more about Stern's Entrepreneurs Challenge
Visit the NYU Stern Berkley Center for Entrepreneurship & Innovation website
---