Measuring Social Impact is Front and Center at Stern's Satter Conference of Social Entrepreneurs
"As the field of social entrepreneurship matures, measuring impact remains a significant challenge for most organizations," says NYU Stern Professor
Jill Kickul
, director of the Stewart Satter Program in Social Entrepreneurship in Stern's
Berkley Center for Entrepreneurial Studies
. Exploring the latest strategies and techniques to measure an organization's social impact, more than 150 entrepreneurs, investors, philanthropists and academics gathered for the Fifth Annual NYU Stern Satter Conference of Social Entrepreneurs this November.
Plenary keynote Mark Kramer, founder and director of FSG Social Impact Advisors, cited evaluation and social entrepreneurship as the two keys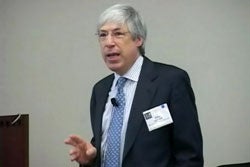 to unlocking the future of the nonprofit sector. According to Kramer, the failure of classical philanthropy can be attributed to the inaccurate perception that problems can only be solved through the nonprofit sector, and the limited philanthropist mindset on how to achieve social change. Valuation, he said, is essential to overcoming the failure of classical philanthropy.
Get the Flash Player to see this player.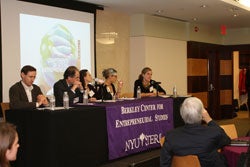 Blair Miller (far right) of the Acumen Fund moderated a discussion examining several current approaches to impact measurement with expert panelists from The Rockefeller Foundation, Center for What Works, Bridgespan and Robin Hood Foundation.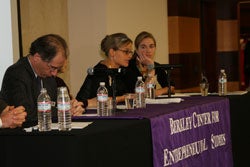 Panelist Margot Brandenburg of The Rockefeller Foundation cited three critical steps to measuring impact:
Develop a methodology
Create an institution to manage the process
Invest in a system that tracks results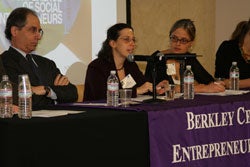 Panelist Debra Natenshon of the Center for What Works distinguished between the terms "outcome" and "impact," arguing that outcomes are measured by evaluating how social conditions and people's behaviors changed, whereas impact is calculated through longitudinal studies.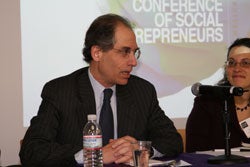 "Metrics cannot be avoided," said panelist Michael Weinstein of the Robin Hood Foundation. He argued that donors make decisions based on relative value and that every grant fights every other grant.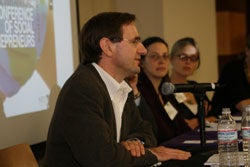 Panelist Richard Steele of Bridgespan warned attendees that during difficult times, people become very internally focused. He recommended that organizations dedicate resources to external relationships in light of the current economic crisis, stressing the importance of bridge building exercises in the long-term.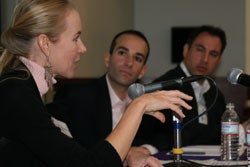 Leveraging existing measurement tools and applications was the focus of an afternoon panel discussion, moderated by NYU Stern Adjunct Professor Matt Klein of the Blue Ridge Foundation (far right), with speakers from B Lab Corporation, Acumen Fund and the Social Venture Technology Group.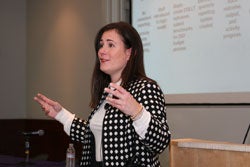 Attendees participated in an interactive case study with The Humane Society's Beth Rosen.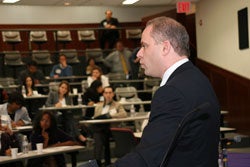 Jason Saul, founder and president of Mission Measurement, LLC, articulated a different vision for where the social enterprise sector is headed and what it means for social entrepreneurs and the way they assess their impact. According to Saul, the sector is increasingly becoming a 'social capital market' in which organizations need to be focused on the outcomes they produce and measurement that allows them to improve their impact. Saul provided a clear picture of four key principles essential to being successful in this new social capital market based on engaging your stakeholders, aligning your strategies, translating strategies into meaningful outcomes and connecting back to the market.
The conference wrapped up with an awards ceremony, during which benefactor of Stern's social enterprise program and member of Stern's Board of Overseers Stewart Satter (Stern MBA '82) (right) presented the NYU Stern Satter Social Entrepreneur of the Year Award to Darell Hammond (left), founder and CEO of KaBOOM! For the past 12 years, Hammond's organization has used an innovative model to bring together business and local neighborhoods to construct more than 1,500 new playgrounds, skateparks, sports fields and ice rinks across North America.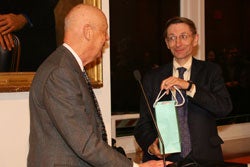 Stern Professor and Academic Director of the Berkley Center
William Baumol
(left) awarded the 2008 NYU Stern Social Entrepreneur Lifetime Achievement Award to Bill Drayton (right), founder and CEO of Ashoka, a global association of the world's leading social entrepreneurs dedicated to advancing the field of social entrepreneurship and the citizen sector.
---