Celebrate Change. NYU Stern Celebrates 10-Year Anniversary of its MS in Business Analytics Program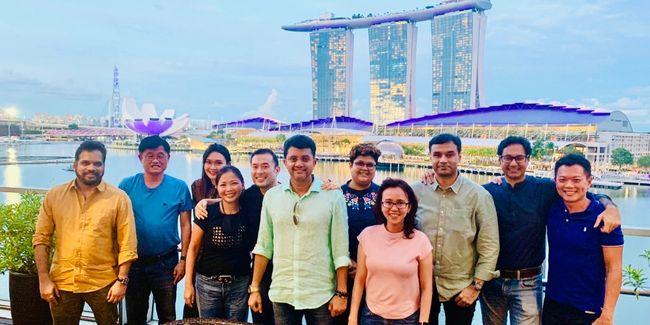 NYU Stern's Master's of Science in Business Analytics (MSBA) Program, the first of its kind to launch at a top business school a decade ago, is now marking the 10th year of the program. Stern's one-year, part-time MSBA Program is uniquely designed to equip working professionals with the tools needed to become trailblazing data scientists and business leaders in any industry. The program's flexible modular format brings students to thriving business analytics hubs in rotating global locations with a homebase at Stern's New York City campus. MSBA students are taught by a mix of Stern's full-time faculty and a curated selection of industry leaders and experts in the field from around the world. 
"Over the past decade we have continuously updated our curriculum to ensure students are prepared to meet the rapidly evolving needs of this cutting-edge industry, including incorporating topics like modern Artificial Intelligence, deep learning, Web 3.0, econometrics and causal inference," said Professor Anindya Ghose, Academic Director of the MSBA program. "Ten years ago our program was the first to offer a solution in response to the need for data science and business analytics experts across industries, a need that has only grown since. Our program provides students with the skills and technical abilities to be leaders in their organizations through data-driven decision making that sparks new opportunities for competitive advantage and better business results." 
The program milestone will be marked at a reunion celebration in NYC later this spring. 
Hear from MSBA alumni Sam Choi (MSBA '21), technical program manager, data science & analytics, Nordstrom; Theo Medeiros, (MSBA '18), head of analytics and insights, TRG; and Li-Yun Sim, (MSBA '20), head of consumer and merchant risk, Grab, on the impact of Stern's MSBA program: 
Why did you choose the MSBA program at NYU Stern?
Sam Choi: The curriculum was more technical than other programs. I had already done an MBA, so technical skills were what I was aiming to develop. Second, Stern had an application-based approach to teaching tech skills, which integrated well for working professionals.
Theo Medeiros: I was looking for a formal education from a top-notch institution to help me communicate insights to business leaders in any organization more effectively. I looked no further when I came across Stern's MSBA program.
Li-Yun Sim: Stern has a renowned reputation as one of the top business schools in the world. As more companies incorporate analytics in their businesses, data and analytics will eventually be the core and heart of businesses across multiple industries. 
How has your degree from NYU Stern helped you progress in your career?
SC: I have been able to use the foundation I built at Stern to seamlessly onboard into my role at Nordstrom. At Stern, I got the exposure I needed in data science and engineering to launch a path towards building and managing my own team of data scientists and analysts. The practical foundation I have gained from Stern will continue to help me towards that goal. 
TM: The value-add to my career was immediate, and I remember the moment - while still in the program - I found myself in the elevator with the head of strategy at The Met, where I worked as a manager of analytics and strategy. With a literal elevator pitch, I extolled the benefits and virtues of the program, and this conversation led to an upper management meeting with department leaders and key decision-makers to discuss the use of data and analytics to execute part of their organizational strategy. 
Immediately after graduating, I also founded the Information and Data Analytics Foundation (iDAF) to create AI-empowered communities in Africa, and opened their first office in Lagos, Nigeria. A few months later, iDAF organized the first and very successful Business Analytics Conference in Nigeria. 
LS: There was an easily-identifiable return on investment for me, as six months into the MSBA program, I was promoted to a senior management position. But perhaps more valuable are the less-quantifiable value-adds the program gave me. I developed strong friendships and bonds with some of my classmates, whom I still keep in touch with today. The rapport we have built with the professors at Stern has been invaluable to me. 
How were you able to strengthen your professional connections?
SC: I had access to world-class faculty as a resource. And with connections I have made at Stern, I leverage the network of alumni to extend my continued education beyond my time in the program. My cohort was full of bright individuals who came to the program with unique stories and accomplished resumes. It is a rare opportunity to be around people from a variety of industries who share the same drive to work in data, but because there was a diverse cross section of industries represented, I learned a lot about how data applies to such different disciplines.
TM: The benefits of the program extend beyond the coursework and data analytics skill sets to include the strong relationships I formed with my cohort. Relationship-building began on the first day of the program - when you join the NYU Stern family, you are not just getting a degree, but you also get a lifelong value through its deep network. I still actively stay in touch with all the exciting and intelligent members of my cohort. We will stay tightly knitted for life.
LS: The relationships I created with my professors and peers provided the opportunity to learn from people in different industries and to see how analytics was applied in various fields. My classmates in my cohort were some of the most highly driven and intelligent individuals I've met; I felt privileged to be learning alongside them. My cohort came from wide-ranging fields such as healthcare, aviation, and finance, and their work experiences and perspectives enriched the class discussions, allowing me to see how analytics can be applied in various fields.
How did the program format benefit you?
SC: The modular format was unique to NYU Stern. With several of the modules held abroad, it created an opportunity to travel with other students, which in my opinion, creates strong connections that solidify into long-term relationships.
LS: I chose Stern over other programs in part because the course is designed for experienced professionals and incorporates both online learning and in-class sessions, which enables professionals to continue working while also earning their masters at the same time. 
Also, since I am based in Singapore, the global focus of the program added tremendous value to my experience. The program attracts senior professionals from across the globe and from diverse backgrounds, which enabled me to have shared experiences with my cohort and build an international network of friends. The icing on the cake was that the sessions are held in different locations around the world. I got to travel to these amazing cosmopolitan cities and had opportunities to speak to guest speakers who are leaders in their industries in these locations.
 
---