Change. Seek it. MBA Students Travel Abroad for New Global Real Estate Immersion: London Experiential Learning Course That Frames Industry in the Global Context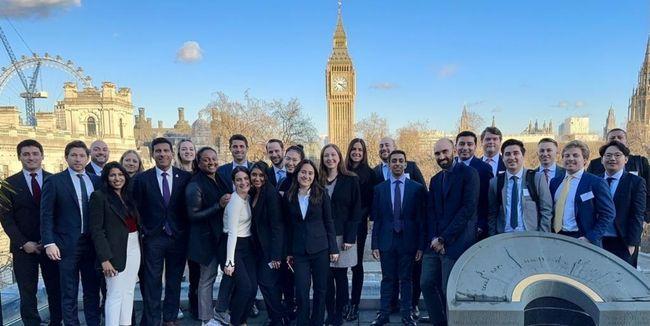 In January, NYU Stern MBA students interested in the institutional real estate industry experienced the sector through an international lens thanks to the new "Global Real Estate Immersion: London" experiential learning course, which took place abroad in England's capital. 
The course was offered through the recently established Chao-Hon Chen Institute for Global Real Estate Finance and led by Professor Sam Chandan, the Institute's director. The course was made possible through the Franck Ruimy Global Experience Fund, which was recently endowed following a $1.5 million gift from Stern alumnus and Executive Board member Franck Ruimy (MBA '02). The Fund will support new and expanded global immersion opportunities for Stern's MBA and undergraduate students and will provide financial support for eligible students participating in the Institute's global programs.
The "Global Real Estate Immersion: London" course is the Institute's inaugural real estate field intensive class. Leveraging NYU London, one of the University's global academic centers, as a hub, students spent one week across the pond engaging directly with real estate industry leaders and trade associations, such as Baumont Real Estate Capital, Chatham Financial, Fifth Wall, Patron Capital, and the Royal Institution of Chartered Surveyors. The trip also included visits to development sites, policy briefings, and an opportunity to connect with alumni through an all-UK Stern alumni reception.
Following pre-trip classes and while immersed onsite, students got real-time insights into global real estate finance and investment analysis, special issues when deploying equity and debt capital internationally, and approaches to analyzing global real estate portfolios. MBAs also took a deep-dive into a case study competition focused on a US acquisition of a UK office property. 
"Meaningful interactions with cross-border investors, lenders, property technology entrepreneurs, and others, all in a global context, are essential for anyone seeking a career in the institutional real estate industry, in New York and cities around the world," said Professor Chandan. "Stern's new global real estate markets course combines a rigorous academic experience and direct engagement with industry professionals in the world's most important real estate markets, and develops the business fluency and acumen needed to lead in this sector."
Professor Chandan continued, "Supported by a gift from Stern Board Member Franck Ruimy, our global program is expanding from London and the UK into Abu Dhabi and Dubai this spring, and further into Asia, Europe, and South America in 2024."
The Institute's second field intensive will take students to Abu Dhabi and Dubai, United Arab Emirates, in May 2023.
---