Ignite Change. NYU Stern Marks 5-Year Anniversary of Executive MBA Program in Washington, D.C.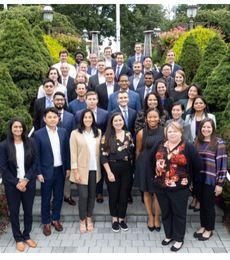 On August 17, 2022, NYU Stern welcomed the Executive MBA Washington, D.C. Class of 2024, and celebrated the five-year anniversary of the program's launch. Stern's EMBA D.C. program was designed for senior-level executives in the surrounding area with a unique format that meets once-per-month to maximize time at work and home and minimize travel. This added flexibility has allowed students to earn a top-ranked MBA degree with other executives closer to home in D.C. while also forging connections with their EMBA New York counterparts during cohort visits to NYC. The program milestone will also be marked with a celebration in D.C. later this year. 

"I am thrilled to be celebrating the five-year anniversary of our Executive MBA D.C. Program," said Academic Director Naomi Diamant, Assistant Dean of Executive Programs. "Our program has continued to evolve based on shifting business climates and student feedback. Most recently, we added a sustainability course requirement to the core and replaced our tracks with seven specializations, allowing students to tailor experiences to achieve their professional goals."
 
Hear from EMBA DC alumni Fabrice Coles (MBA '20), senior manager, global public policy, Paypal; and Leesa Galatz, MD, (MBA '22), Mount Sinai professor and chair, Department of Orthopaedic Surgery, Icahn School of Medicine, on the impact of Stern's EMBA D.C. program:

Why did you choose the D.C.-based Executive MBA program at NYU Stern?

Fabrice Coles: As a parent who was working full time in demanding roles, I chose the NYU Stern EMBA D.C. Program due to its location, schedule and its promise to offer a top EMBA experience with the added flexibility I needed. As a native New Yorker living in D.C., it also appealed to me that I could join a community with some strong New York ties.

Leesa Galatz: I chose the EMBA D.C. Program at NYU Stern because of the once-a-month schedule. I also know a number of other physicians who have completed the EMBA program in New York, and they have all spoken highly of the program and its value in furthering their education. 

How has your degree from NYU Stern helped you progress in your career?

FC: I am an attorney who has focused on public policy and politics, and Stern has helped me expand my knowledge base and network. In my current role I leverage my policy background but also apply Stern-acquired skills, especially strategy, marketing, and finance, to the challenges my company is thinking through.

LG: With a background in science and medicine, I assumed the position as chair with little background in finance and no formal training in management and operations. The EMBA program gave me a solid background in all these areas. Now I am able to converse with hospital administration in a more meaningful and effective manner and can better advocate for my physician faculty and our patients within a large and complex health system.

How were you able to strengthen your professional connections by engaging with both a D.C. cohort and an NYC cohort?

FC: We were provided with a few opportunities to interact with our NYC counterparts. My favorite was the weekend immersion in NYC at the conclusion of our first year. We had the chance to break bread and share ideas with our NYC counterparts, and I learned a great deal about their experiences. It was fun to compare notes.

LG: The D.C. program has a diverse student population from all different industries, including those with government and military backgrounds. This diversity added interesting perspectives to classroom discussions. The additional New York cohort interactions enabled us to make connections with people in varying geographic regions and with further diversified backgrounds.

Was the program flexibility a deciding factor for you in choosing to apply to EMBA D.C.?

FC: The once a month weekend format was key to my decision given competing family and work responsibilities. It also permitted deep dives into the material covered with enough time for extensive group work and collaboration.

LG: The program flexibility was definitely a factor in deciding to apply to EMBA D.C. The choices of electives were excellent, allowing me to focus on finance classes while still offering substantial opportunity to take many leadership and management courses.

Most memorable moment?

FC: My most memorable moment was when I asked a Stern professor a question about how a company should proceed after a class case discussion. Before answering she smiled and responded, "I'll tell you what I think in a moment, but what do you think, Mr. CEO? All I can do is teach you how to ask the questions. The answers you have to find and be accountable for." This was invaluable feedback because she was right. In business there is no textbook, there are precedents, but in their finality each challenge is unique and leaders must navigate this uncertainty to make decisions and move forward.

LG: There were so many. One of the most memorable moments was taking Professional Responsibility with Bruce Buchanan. The content was so fresh and so vastly different from my professional experience as a physician. I also value the friendships and connections I have with my cohort. They are a wonderful, talented group of people and I learned from all of them.
 
---