Account Possible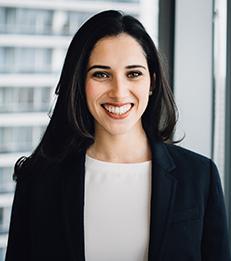 Stern definitely opened my eyes to topics and careers in accounting and financial services that I never knew existed.
Through Stern's Master of Science in Accounting program, alumna Carolina Cuello learned how accounting principles impact people, policies and business practices.
With a bachelor's degree in accounting and real-world experience through multiple internships,
Master of Science in Accounting
alumna Carolina Cuello knew exactly what path she wanted her career to take. In researching graduate programs, Carolina wanted an education that would not only prepare her thoroughly for the four-part Certified Public Accountant (CPA) exam, but also  hone her understanding of the field and its importance in public policy, market performance and business operations.
"Stern definitely opened my eyes to topics and careers in accounting and financial services that I never knew existed," she explained. "Through conversations with faculty, classmates and guest speakers, I was re-engaging with concepts I had learned in my undergraduate program, but taking them a step further, thinking critically about the need for, and application of, accounting practices."
Hailing from Miami, Florida, Carolina was excited about the opportunity to move to New York, home to the Big Four accounting firms. "The opportunity to hear guest speakers – not only at special events but in weekly class sessions – who could speak directly to the issues we were discussing was invaluable," she said, reflecting on one example in which her class debated firm incentives and executive compensation with a former chief financial officer. "From these speakers and our faculty, many of whom have held prominent roles in the industry themselves, we gathered new insights into how the decisions they make affect their firms and their employees."
Professor
Alex Dontoh
, deputy chair of NYU Stern's Accounting Department and faculty advisor for the program, echoed Carolina's sentiments, highlighting the value of intersecting academic and professional perspectives throughout the master's degree. "The M.S. in Accounting offers both sides of the equation: highly qualified faculty and experienced practitioners who can help students achieve the next level for their learning and application of accounting principles."
By leveraging their professional networks in this way, the faculty introduced Carolina's cohort to complementary areas to expand their knowledge of business and financial markets through such classes as Corporate Finance, Financial Modeling and Forensic Accounting. Drawing on their experiences, Professors
Paul Zarowin
,
Dan Gode
,
Anthony Marciano
and many others challenged students to explore how events such as presidential elections, IPOs and high-profile mergers can impact larger policy decisions, regulation and their own daily practices.
The program's structure also facilitated another unexpected benefit for Carolina – the ability to develop lifelong relationships with her fellow classmates. Moving through each course as a cohort allowed students the opportunity to build on each other's knowledge and provide mentoring and support throughout the recruiting process. "Because the program was only a year, I didn't expect to make so many friends," Carolina said. "Now I have a strong network of fellow alumni in New York and all over the world."
About the Master of Science in Accounting Program
NYU Stern's
Master of Science in Accounting
, which launched in May 2015, allows college graduates with a business or accounting major to satisfy the course requirements for New York State's CPA certification. Because of New York State's stringent standards and reciprocity with other states' certification, graduates of this program are well-prepared to meet CPA requirements in other states such as California, Texas and Florida.  The MS in Accounting provides a thorough foundation for careers in accounting, including attestation and assurance services, as well as taxation and forensic accounting.
Photo credit: Ian Michelman
---