Stern Stories
Analyze Possible
The Center for Global Economy and Business welcomed alumnus Dr. Henry Kaufman to discuss his new book "Tectonic Shifts in Financial Markets: People, Policies, and Institutions."
The Center for Global Economy and Business welcomed alumnus Dr. Henry Kaufman to discuss his new book "Tectonic Shifts in Financial Markets: People, Policies, and Institutions."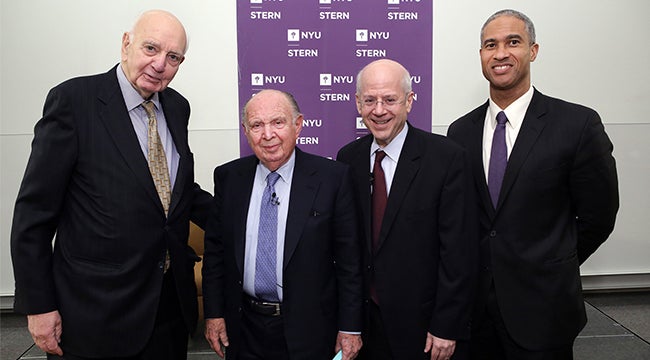 Left to Right: Paul Volcker, former Chairman of the U.S. Federal Reserve; Dr. Henry Kaufman, alumnus and author of "Tectonic Shifts in Financial Markets: People, Policies and Institutions;" Kim Schoenholtz, Director of NYU Stern's Center for Global Economy and Business; Peter Henry, Dean of NYU Stern
On March 22, the
Center for Global Economy and Business
hosted alumnus Dr. Henry Kaufman on campus to celebrate the launch of his fourth and newest book "Tectonic Shifts in Financial Markets: People, Policies, and Institutions." NYU Stern Dean
Peter Henry
introduced Kaufman to the audience before a conversation moderated by Professor
Kim Schoenholtz
, director of the Center, as part of the Alumni Relations Author Lecture Series.
In his book, Kaufman offers an insightful and penetrating analysis of the factors that remade the post-World War II U.S. financial market, focusing particularly on the 2008 financial crisis and how future near-disasters can be prevented.
During the lively and wide-ranging discussion, Kaufman touched on his observations informed by his distinguished career, which included stints in commercial banking and at the Federal Reserve Bank of New York, followed by 26 years at Salomon Brothers where he rose to be chief economist and vice chairman of parent company Salomon Inc. He repeatedly underscored the need for financial institutions to understand and anticipate the critical impact they have both on markets and society.
"They have to balance entrepreneurial drive with fiduciary responsibility or the system will get into trouble," he warned, noting it was such an imbalance that lead to the most recent financial crisis.
Kaufman told the audience maintaining that balance begins with personal responsibility. He recounted an early episode in his career when his then-boss at Salomon Brothers, Sidney Homer, the institution's revered first director of bond research, told Kaufman he would soon be elevated to partner and sought to illustrate the integrity demanded of the role.
"Sidney said, 'Tell your wife, Elaine, you're going to be personally responsible for $2 billion.' When I told Elaine, she said, 'What do you want to do that for?'" recalled Dr. Kaufman, while chuckling along with the audience.
Among those in the audience was Paul Volcker, the former chairman of the U.S. Federal Reserve, who wrote the preface to "Tectonic Shifts," and to whom Kaufman devotes an entire chapter. Kaufman credits Volcker and his leadership at the Fed with reigning in the damaging inflation that had burdened the economy for more than a decade beginning in 1965, but he had criticism for the central bank's more recent actions.
"One of their greatest accomplishments is we have not had a depression," he said, but noted among other oversights, the Federal Reserve did not analyze the implications of derivatives on the financial market, or the impact of the Glass-Steagall repeal and the resulting increase in financial concentration in the United States.
When asked about the state of today's financial market at the conclusion of the conversation, Kaufman conceded we are better off now than we were in 2008, but tempered that is not a strong statement. He informed the audience that while in the 1960s there were dozens of business corporations with AAA ratings, that number has dwindled to one or two.
"The balance sheet of corporations has not improved," he said. "Those corporations will be vulnerable unless we have a new period of financial stability."
Watch the full event: