Chart Possible
MBA student Sarah Manning partners with Sarah Labowitz and the NYU Stern Center for Business Human Rights to quantify and map more than 7,000 garment factories in Bangladesh.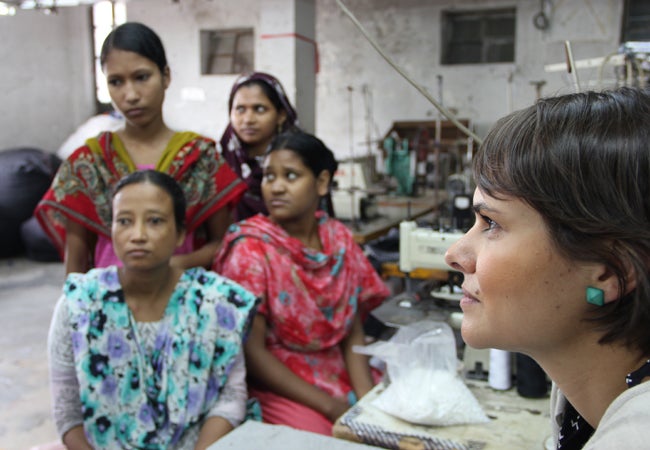 "To fix the problem, you need to have a sense of how big it is," says full-time MBA student Sarah Manning.  The problem, describes Manning, is quantifying the size and scope of garment factories in Bangladesh, many of which supply clothing for more than 200 of the world's largest and most recognizable clothing brands. Working with
Sarah Labowitz
, Research Scholar and Co-Director of the NYU
Stern Center for Business and Human Rights
with Professor
Michael Posner
, Manning and a small team of MBA students created a list of registered factories.  Using this list, coupled with data collected in June 2015 from an on-the-ground survey in Dhaka, Bangladesh the team created a series of
maps
, designed by NYU Tandon student Anneka Goss. Since the collapse of Rana Plaza in 2013, the Center has highlighted a number of supply chain and labor issues facing the garment industry, with a goal of improving the transparency in the industry as well as shared responsibility among all stakeholders including governments, retailers and factory owners.
Manning first became involved in the
Bangladesh mapping project
after hearing a former student speak to incoming students at Stern LAUNCH, full-time MBA student orientation.  With the help of the Office of Student Engagement, Manning connected with Labowitz and the Center, and began work on the initial stage of the project, becoming the project manager of the factory data collection project last summer.  She credits her statistics classes and background as an urban planner in helping her contribute skills to the project.
Complicating the mapping process was the lack of current, accurate information about garment factories in Bangladesh. To obtain an accurate account, the team undertook two methods of collecting data.  One was working with local surveyors in two sub-districts of Dhaka to identify 479 factories in three days. This survey revealed both direct exporters and the informal subcontractors that were previously invisible to fashion brands and regulators in Bangladesh.   
The second, larger, undertaking was combing through all available factory data.  Working with an outside computer programmer, Manning led a process to scrape all the existing data from five websites and compile it into one master list with more than 10,000 entries.  Manning then manually reviewed the list and managed a team of MBAs tasked with removing duplicates and cleaning up the entries so they could be mapped.
According to Labowitz, the team's research found that there are approximately 7,000 factories in Bangladesh, divided between direct exporters and indirect suppliers. This means that there are 50% more factories than previously estimated. "Our research shows that indirect sourcing through small, unregulated factories is an essential element of Bangladesh's low-cost, high-volume model of garment production," said Labowitz. "This project is an important step toward improving oversight and shared responsibility among the public and private sectors for better factory conditions.
Manning notes that where larger factories exist, there are most likely smaller, unregistered factories in close proximity. Knowledge of these "hot spots" of garment production will help to continue to piece together the puzzle of the entire factory landscape and the true costs of fast fashion.   
Manning hopes that this map and report on factory conditions and recommendations for future improvement will lead to more questions and further analysis of the country's factory ecosystem.  As a larger goal, she hopes this project will be scalable to other countries.  "I felt very fulfilled by this job," emphasizes Manning, who would like to go into social impact consulting following graduation.  "Working with a good purpose and aligning your job with who you are as a person is extremely important to me.
---